2007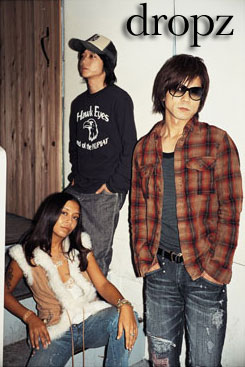 This is the year that Hide's side project was finally realized! In 2004, all of the members except for Hide were releasing solo or side project material. All of them did live shows as well except for Toll.
Hide's project was called Dropz and featured Hide (guitars, programming, and keyboards), Kelli Ali (vocals), and Cube Juice (programming and electronics). Kelli Ali is formerly of Sneaker Pimps and Cube Juice wrote a song for Atsushi's solo album. Hide created some demos and approached Cube Juice (real name Shinichi Nagao) to collaborate with him. He agreed after listening and being impressed with the demos. Hide really wanted Kelli Ali to sing on the songs, since before Cube Juice became involved. Fortunately for him, Cube Juice knew Kelli Ali from around 10 years prior when the Sneaker Pimps were set to play the Fuji Rock Festival (the year it was typhoon-ed out). Once Hide found out that Kelli agreed to be on the album, he immediately went to the studio to record the basic tracks. Kelli was on vacation when she listened to the tracks to come up with the lyrics. She flew to Japan to record the vocals.
The debut album from Dropz, Sweet Oblivion album was released on April 4. It was a double disc album with the second disc containing remixes of all the tracks. No singles were released but there was an animated video for "To Watch Me Crawl". No live shows took place but merchandise was sold through the fan club.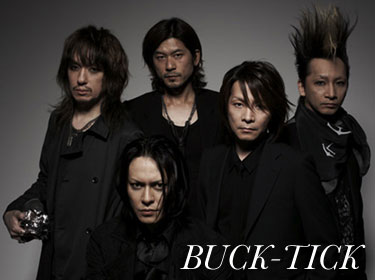 On June 6, Buck-Tick released the first single from their new album, "Rendezvous". For the b-side, the band chose to re-record "My Eyes & Your Eyes". On the same day, the "Parade Tour" was launched. The opening band was different for each date and all comprised of bands who appeared on the Buck-Tick tribute album Parade ~Respective Tracks of Buck-Tick~. Opening bands included: Runaway Boys, J, Michiro Endo, Balzac, Kiyoharu, Masami Tsuchiya, and Abingdon Boys School. During the sets, many bands played covers of Buck-Tick, namely what they covered on the tribute album, and often with a Buck-Tick member guest performing with them.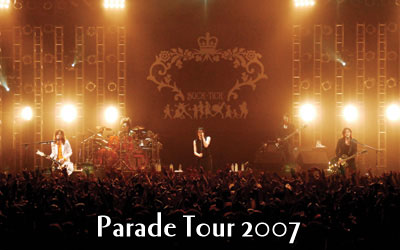 Over the summer, Buck-Tick also played at a festival and were supposed to play in Okinawa on July 15 as part of the "Parade Tour", but a typhoon prevented the ferry from transporting their gear so the gig was rescheduled for early 2008. Buck-Tick played Hokkaido on August 17 for the "Rising Sun Rock Festival".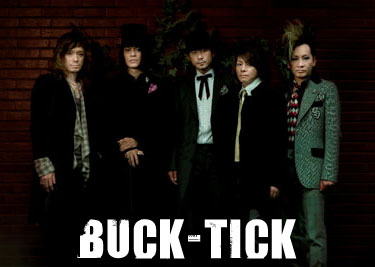 On August 8, Buck-Tick released the second single from their new album, "Alice in Wonder Underground". For the b-side, the band chose re-record "Tight Rope". The new album, Tenshi No Revolver was released on September 19. A tour for the album began in Saitamaon September 22 for 34 dates. The tour continued through December and ended in Tokyo. Since 2001, Buck-Tick had annually held "The Day in Question" concerts around December 29 at Nippon Budokan. This time they played the venue on the annual date but as part of the "Tenshi No Revolver Tour". This show was recorded and a live video released the following year. Perhaps for the first time, several pieces of tour merchandise featured the English translation of the album/tour: "Revolver of the Angel".

On September 5, the remaster albums were reissued with cardboard sleeves but no extra tracks. In 2002, the remasters ended at Cosmos but this time they included the compilation albums Catalogue 1987-1995 and BT. On September 7, perhaps just after midnight, Buck-Tick performed "Alice in Wonder Underground" on the television show "Music Japan". They also appeared on "Music Fighter" on September 21.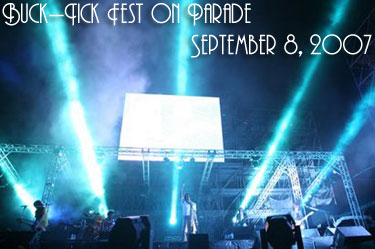 The "Parade Tour" culminated with a special concert entitled "Buck-Tick Fest On Parade" on September 8 at Yokohama Minato Mirai with all of the openers over the summer dates as well as other artists on the tribute album including Attack Haus, Rally, Theatre Brook, MCU, and Age of Punk. Ken Ishii also performed but did not appear on the tribute album. During the sets, many bands played covers of Buck-Tick and often with a Buck-Tick member guest performing with them. Kiyoharu covered "Just One More Kiss" (with Atsushi). Balzac covered "Moon Light". Runaway Boys covered "Monster". Age of Punk covered "Physical Neurose" (with Hisashi). Attack Haus remixed My Fuckin' Valentine. Michiro Endo (M.J.Q.) performed "Warsaw No Gensou". Abingdon Boys School covered "Dress". Rally covered "Aku No Hana". J covered "Iconoclasm". Buck-Tick performed "Baby, I Want You." with Ken Ishii and "Speed" with MCU. The festival was recorded a live video was released the following year.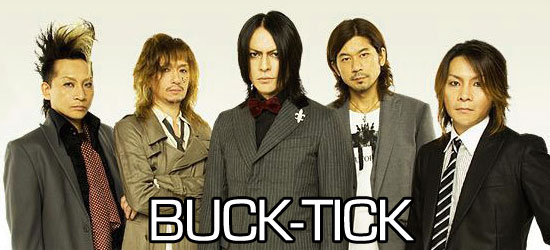 In December, SoftBank released Buck-Tick themed mobile cell phones as part of their fan fun series. Needless to say, these 3G models were for use only in Japan. SoftBank noted that these phones were not compatible with global roaming service either. The phones featured a Buck-Tick design on the outside, a Buck-Tick themed screen, and a Buck-Tick themed strap of a rabbit that fits with the mood of "Alice in Wonder Underground". Given the price of ¥93,120, applying a Buck-Tick theme to your phone both on the outside and the inside would've been much cheaper DIY style.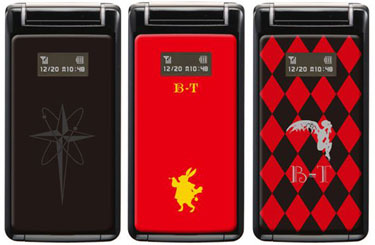 [this page was last updated on 2016.07.30 @ 22:10:45 CDT]