1990
I'm not sure of the exact dates but I think during the month of January there were a series of "Buck-Tick Special" video concerts AKA "Captagon Vol. 38". The Captagon company held these video concerts for various bands and Buck-Tick was the main band for this edition. Vol. 38 featured footage of Buck-Tick recording the new album, the artwork photography session, as well as messages from the members.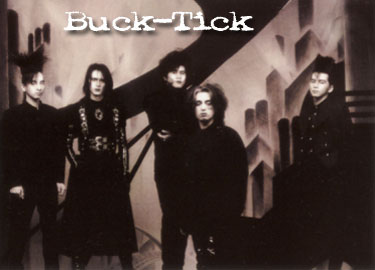 The single off the long awaited new album was released on January 24 and was entitled "Aku No Hana". The album was also called Aku No Hana and was released on February 1. This was the first time Buck-Tick had released a song with Japanese in the title. The lyrics for the songs also contained less English than previously released Buck-Tick songs. "Aku No Hana" was chosen because Atsushi had been reading a poet whose works he enjoys quite a bit, Charles Baudelaire. "Aku No Hana" is taken from his collection of works entitled "Les Fleurs du Mal" or "The Flowers of Evil". (The remix album Shapeless released in 1994 translated "Aku No Hana" as "Evil Flowers".) A week later on February 8, a remixed version of their Indies album Hurry Up Mode was also released with "1990 mix" added to the title. On April 1, they released the video version of Aku No Hana. It contained a music video for each song on the album.
On January 26, the band appeared on Asahi TV's "Music Station" and performed "Hurry Up Mode". On January 27, they appared on "All Night Fuji Studio" and performed "Hyper Love", "The World is Yours", and "Aku No Hana". On February 20, they appeared on TVK's "Live Tomato". The live show was taped at Kawasaki Club Citta. On July 18, the band appeared on NTV's "Pop Taisen" with Ziggy (another Japanese band popular at the time) for a joint interview and also performed "Misty Blue". I do not know the exact date but the band also appeared on Bakufu Slump's tv show "Bakufu Slump's Store" in the early part of the year. They performed "Hurry Up Mode" and "Aku No Hana".

The "Aku No Hana" tour began on March 2 at Omiya's Sonic City and was the most extensive Buck-Tick tour that they had done at the time (51 dates). They wanted to make sure they played in every prefecture so everybody could see them, as to make up for what happened during the "Taboo" tour a year prior. Judging by the tour dates, they didn't play every prefecture, but they did play more than they ever had prior for a tour and even went to Okinawa, which was a first for Buck-Tick. (The prefectures they did not play during this tour were Fukui, Nara, Oita, Saga, Shiga, Tokushima, Tottori, Toyama, and Wakayama.) The sets for the tour were as always, Buck-Tick elaborate cool. There were devils on the side that moved up/down to open/close. In the back was a giant metallic Tower of Babylon like building with spikes that spun around (can be seen in the music video for "Love Me"). From what I can recall, the shows would begin with images being projected onto a white sheet-like curtain. I think the images were from the video "Misty Blue", of a cat and general expressionist shadowplay. The background music for this was the intro music on the Aku No Hana video. Judging by bootlegs, some other shows may have begun with an old Adolf Hitler speech being broadcast.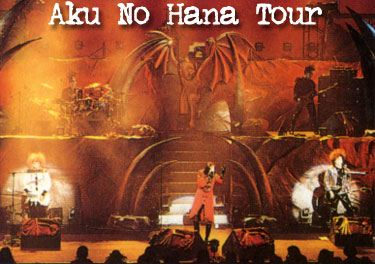 [Webmaster's note: I was living in Okinawa when the tour came to Naha on June 18. It was amazing to see Buck-Tick on our tiny island! I met up with my friend and her friends. We were all just kids but had such a good time hanging out before the show and talking about the band, taking pictures with the tour bus, etc. I think I was the only fan there who really dressed up and put their hair up. It's quite a feat to do in Okinawa, given the humidity. I think it's really cool to go to a show of one of your favorite bands and meet with others who feel the same as you so if you ever have such a chance, please don't pass it up. Whenever I hear "Rokugatsu No Okinawa", I think of that day, though Buck-Tick did play Okinawa in June 3 years later so perhaps the song is not about me afterall, ahahhahahahaha.]
On March 18, a book entitled Tenshi No Zawameki ~My Buck-Tick Story~ was released. Essentially it is a fan talking about being a fan. Native Japanese love this book but I would not recommend it to non-Japanese as it is text only. On June 15, a book entitled Hyp No. 3 was released. It was a special issue of the magazine "Fool's Mate" (June issue). I would recommend this book for all fans who are interested in this period of Buck-Tick has it gives a nice summary to date, along with a section on the stage costumes and musical influences.
On July 21, Symphonic Buck-Tick in Berlin was released. It was Buck-Tick's music orchestrized by the Berlin Chamber Orchestra. (This was again something new in Japan that Buck-Tick did first that others have imitated). Perhaps the idea evolved from the symphonic version of "Seventh Heaven" which can be heard on the video Sabbat II.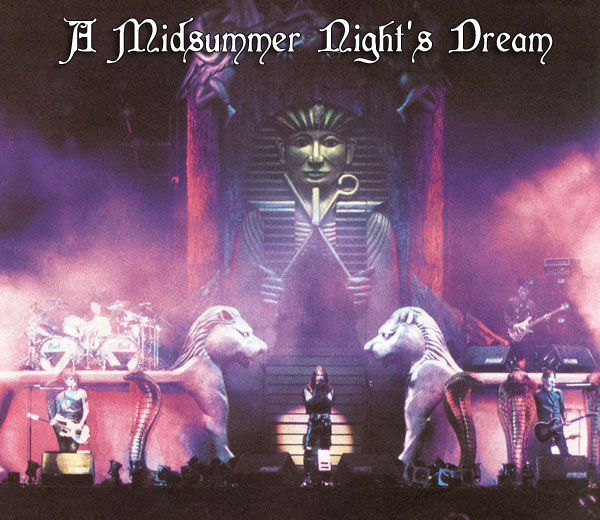 After the Aku No Hana tour finished in June, the band took a little break before holding more concerts later in the summer. Buck-Tick performed an event they called "A Midsummer Night's Dream" on August 2 at Seibu Stadium and August 5 at Osaka Ekisei Contena Yard. Buck-Tick have always had an elaborate live set and this one proved no different. It had an Ancient Egyptian theme. My own personal take is that I think it's nice that Buck-Tick focuses so much on making sure that they are interesting live. They have a great visual for the eyes to feast on at their shows and their sound is as good as studio quality. They are definitely not a disappointment live.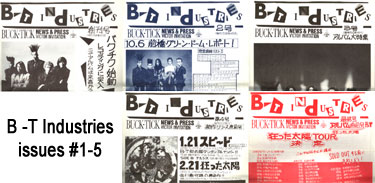 On September 20, Buck-Tick went into the studio to begin recording their next album. First Toll and U-ta laid down the basic rhythm for the tracks. Then Hide and Hisashi dubbed in their guitar parts. It was a full month of recording for the four members before Atsushi even recorded his vocal parts. Starting in October, I think it was, Victor hyped up this next album by releasing in record stores a short free newsletter entitled "B-T Industries". It was released every month on the 15th and featured commentary on the recording, live show reports, tour dates, fan art, quizzes, contests, and so forth. The newsletter ran for a total of 5 issues.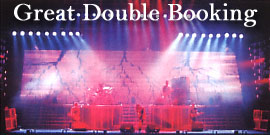 Buck-Tick's next big live event definitely lived up to it's name: "Great Double Booking". In featured Buck-Tick and Kyosuke Himuro (he was the vocalist of Boøwy) as the main attraction, which is something that is rare in Japan. You see, there is rarely an opening act (usually only for foreign bands) and to have 2 big names play together at the same show is quite unheard of. There are festivals of course as that is how Buck-Tick helped to spread their fanbase. This "Great Double Booking" took place on October 6 at Maebashi Green Dome in both artists' home prefecture of Gunma. (Buck-Tick again bent the rules later when they held a series of shows with two other major bands in 1994 and created their own festival in the 2000s.)
Another major event took place on December 5 at Osaka-jo (Castle) Hall. It was called "5 For Japanese Babies" and there was a total of 8 dates starting on the 5th in Osaka and ending on the 29th in Niigata. The title of the concerts of course coming from the lyrics for the song "Iconoclasm".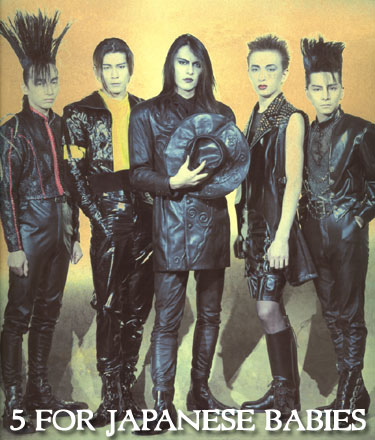 Throughout the month of December there were a series of "Buck-Tick Special" video concerts AKA "Captagon Vol. 44". The Captagon company held these video concerts for various bands and Buck-Tick was the main band for this edition. (I'm not sure of the contents right now of this edition and will comment about it later.)
[this page was last updated on 2017.04.18 @ 19:17:31 CDT]