1998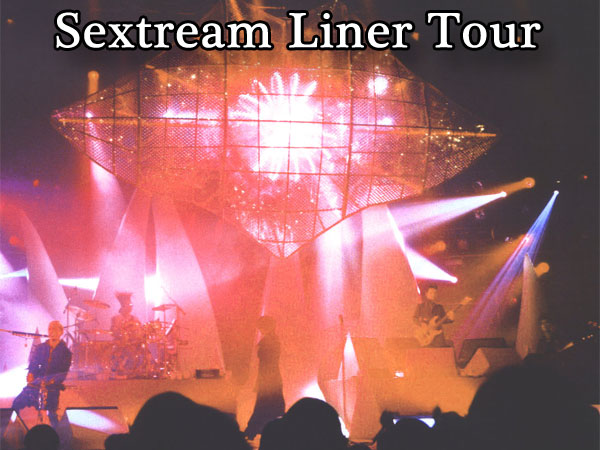 On February 4, Buck-Tick began their "Tour Sextream Liner" which was comprised of 33 dates. It was longer than the tour for Chaos but still a slightly shorter tour than most. The last two dates were on May 8 and 9 and were held at the Budokan. These shows were taped and released on August 12 as an album and as a video. The album was called Sweet Strange Live Disc and was Buck-Tick's first live album. The video was called Sweet Strange Live Film. There were a few differences between the album and the film. The album does not include "Gessekai". The video does not include "Tight Rope", "Mienai Mono Wo Miyou To Suru Gokai Subete Gokai Da", and "Candy".

On March 11, the single "Sasayaki" was released. All of the b-sides were remixed by foreign artists. "Thanatos" was remixed by Raymond Watts (Pig), "My Fuckin' Valentine" was remixed by Gunter Schulz (KMFDM), and "Schi.zo Genso" was remixed by Daniel Ash (Bauhaus as well as Love and Rockets). For the first time since "Just One More Kiss" in 1988 (and Taboo in 1989), this was also released on vinyl with slightly different tracklisting and artwork. It was entitled "LTD" as it was a limited release.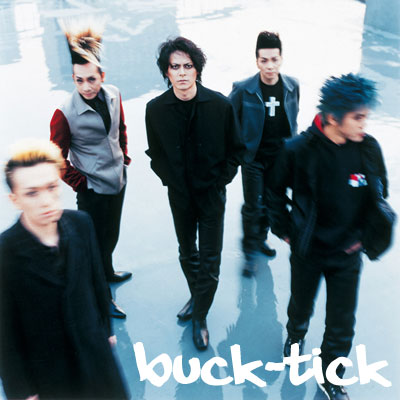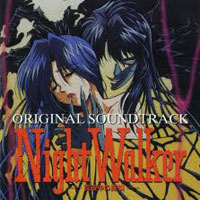 On May 13, Buck-Tick released the single "Gessekai". As a b-side, "Muchi No Namida" was remixed by Tomoyasu Hotei (formerly of Boøwy). "Gessekai" was used as the opening theme song for the tv cartoon show "Nightwalker: Mayonaka No Tantei". As a result, many people were introduced to Buck-Tick for the first time. This was the first time Buck-Tick's music was used for a cartoon and this would happen a few more times over the years, drawing in fans who may have never heard of the band if it were not for the show. The soundtrack for "Nightwalker" was released on October 14 and included 2 versions of "Gessekai", the second being a shortened instrumental.
I am not sure of the exact date but towards the begining of the year, Buck-Tick appeared on the television show "Rocket Punch" and performed "Heroine" and "Sasayaki". Sometime in July they returned to the show to perform "Gessekai". (This may be incorrect though. During their appearance on the show the following year, the interviewer notes that it's their second appearance on the show and roughly dates their first appearance as May 1998. Perhaps the 3 songs performed were all from one taping with a costume change.)

Atsushi and Toll were interviewed on "Music Clique" on August 24.

In September, Buck-Tick official display model doll figures were sold at a limited edition of 1000. I have a limited memory of these but I think one had to paint them by hand much like other kind of collector models such as cars and planes. These were 1/8 scale (roughly 20cm tall) and also quite expensive at ¥58,000. Each had a serial number and came with an acrylic display case. Each member came with their instrument and a microphone for Atsushi.
When the Bauhaus Resurrection Tour reached Japan, all of the members of Buck-Tick were spotted in attendance at the Tokyo concert on October 18. Hisashi also wrote the liner notes introduction for the Japanese edition of their compilation album Crackle.
On October 21, Guniw Tools released Dazzle. Hisashi wrote the music to the track "Grazing".
Also on October 21, Masami Tsuchiya released Mori No Hito ~Forest People~. Atsushi wrote the lyrics and provided vocals for the tracks "Manatsu No Yoru No Mori (A Mid Summer Night's Forest)" and "Chisana Mori No Hito (Goblin Forest)". As Atsushi had long been a fan of Masami's work, it must have been quite an experience to work with him. (They later collaborated again when Atsushi released his solo material.)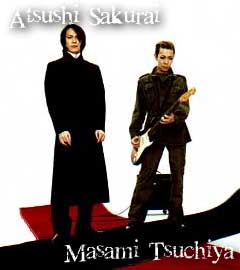 [this page was last updated on 2016.07.30 @ 22:10:37 CDT]