2000

Mercury/Polygram released the compilation album 97BT99 on March 29. This was a double disc compilation album of material released while Buck-Tick was signed with Mercury/PolyGram, both the album and the singles with b-sides.
U-ta makes a guest appearance on the Shammon album Lorelei which was released on April 5. He plays bass on the songs "Sontoku Kanjou" and "Subconscious Excursion".
In July, Buck-Tick officially changed labels to BMG/Funhouse. I don't know which months these events happened but as noted on their first album on BMG/Funhouse, their new manager became Takahiro Chiba. They also began gave a publishing credit to Circles Music Publishers. Perhaps with the label change they created their own publishing house to retain copyrights.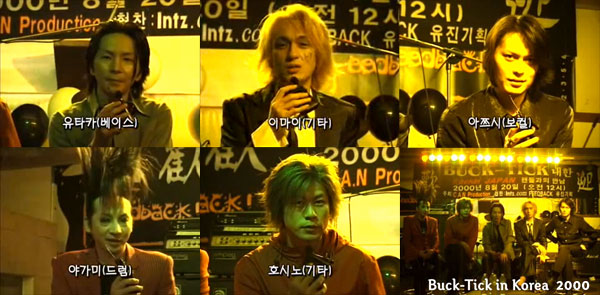 There has been a rising popularity of Buck-Tick in certain circles overseas but the amount of fans in Korea grew so much that Buck-Tick held a formal interview in Seoul, Korea. Their arrival on August 19 was greeted with many fans at the airport--it was the first time the members had been to Korea. The interview was on August 20 and a handful of devoted fans got to meet the band but they did not play live. While in Korea, the band also met with formal press. The members flew back to Japan on August 21. A Fish Tank Korea was established but I'm not sure what year it started nor when it ended. (Fish Tank is Buck-Tick's official fan club.) What is interesting to note is that around this time, there was a mutual love of pop culture from across the water as some Koreans became interested in such things as Japanese music and Japanese became interested in such things as Korean television shows and music groups. (An example of how governments divide but pop culture unites?)
The first single from the upcoming album, "Glamorous", was released on September 6. The music video was filmed to make it appear that it was the recording session for the song. This is a typical format for music videos but the first time that Buck-Tick had used it.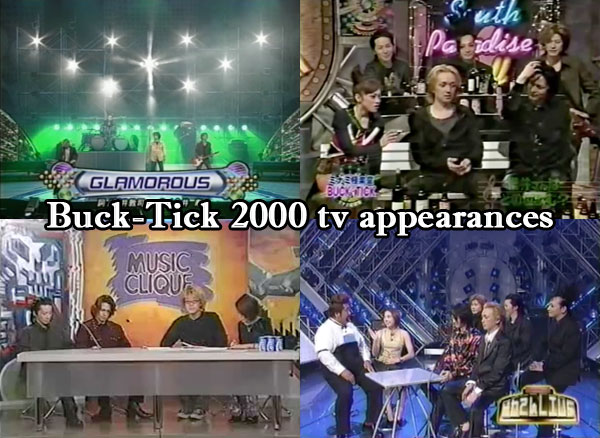 If my sources are correct, Buck-Tick made an appearance on the television show "MMM!" on September 5. Atsushi talked about 3 of his favorite wines and the band performed "Glamorous". The band also made two television on apperances on September 16. (These may have been filmed previously.) First, they performed "Glamorous" on "Pop Jam". Second, they appeared on "Minami Gokurakudou" (South Paradise Hall). They performed "Glamorous" and were interview by the comedian hosts and actress/singer Mari Hamada (Maki Fujii's wife at the time). Atsushi and U-ta were interviewed on "Music Clique" on September 23. On October 1, the band performed "Glamorous" and "Aku No Hana" on the show "Kikan Gentei Pikapika Tennouzu Live".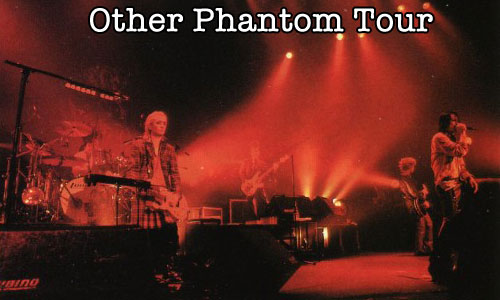 The album One Life, One Death released on September 20. Buck-Tick held 2 short tours in support of the album. First they played the "Phantom Tour" for 8 dates beginning on September 21 in Chiba, then the "Other Phantom Tour" for 7 dates beginning on October 15 in Miyagi. Buck-Tick played another short tour in support of the album entitled "Tour One Life, One Death", which were 3 dates at the end of the year. This was a smaller support tour for an album than they usually hold and so several places were cut. For example, this was the first album that they did not tour to remote Okinawa since they started touring there for Aku No Hana in 1990. For the tour pamphlet, there were two versions. The green cover had photos from their trip to Korea and then later a red cover veresion was available with live concert photos.
The band played at the Nippon Budokan on December 29, their last concert in the 20th century. This was recorded and released as both a live album and live video the following year.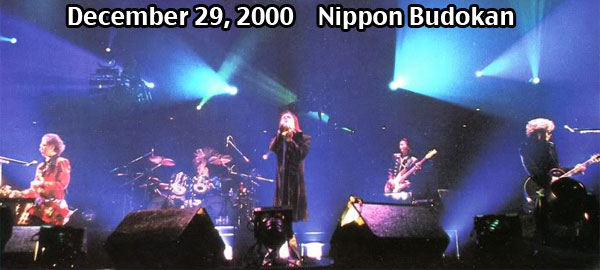 [this page was last updated on 2016.07.30 @ 22:11:09 CDT]