2008
On January 20, Buck-Tick played at Namura Hall in Naha, Okinawa. They were going to play in Okinawa on July 15, 2007 as part of the "Parade Tour" but a typhoon prevented the ferry from transporting their gear so the gig was rescheduled for this day.
There was a "Buck-Tick Fair" held which consisted of guitars used during the "Tenshi No Revolver Tour" on display from March 29-April 7 at Shinseido Rock Inn shop in Kumagaya, Saitama. Often these fairs include concert costumes but I do not know if any were on display this time.
On April 2nd, the live video Buck-Tick Fest 2007 On Parade was released. On May 7th, the live video Tour 2007 Tenshi No Revolver was released.

Buck-Tick were in the studio recording their next album July 12 - November 20.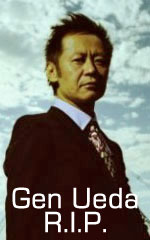 On September 24, Sirius ~Tribute to Ueda Gen~, a tribute album for Gen Ueda was released. He was the keyboardist for Lä-Ppisch who was diagnosed with cancer and passed away in March 2008. The band has a history with Buck-Tick in that Toll's previous band SP (formerly known as Spots) appeared on a compilation with them, later both Buck-Tick and Lä-Ppisch were signed to Victor/Invitation in 1987, and both bands endorsed JVC stereos around the same time in the late 1980s. The tribute album featured cover songs by various artists. Buck-Tick covered "Hamelin". (I tried to find a picture of both bands from back in the day that included Gen but only managed to find this joint interview with Magumi, the singer of Lä-Ppisch.)
Toll appeared with 3 other drummers at the "Led Zeppelin Wo Kataru Kai" (Talk About Led Zeppelin Gathering), a John Bonham tribute event held on the anniversaryof his death, September 25 at Koenji Show Boat in Tokyo. The other drummers were Masafumi Minato (Dead End), Koseki Sumitada (session musician), and Masataka Fujikake (various).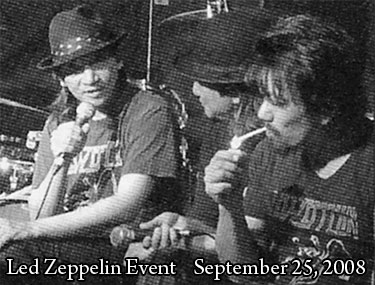 Lucy played live for the "Music and People" event put on by the magazine "Ongaku To Hito" on November 3 at Yokohama Blitz with Suilen (Maki Fujii's project with his wife) and Acid Android (Yukihiro of L'Arc~en~Ciel). Acid Android took the stage first, followed by Suilen. Then came Lucy who performed 2 songs during the encore. After that came a very special performance of Schaft! It was Hisashi and Maki joined by Yukihiro on drums. They performed "The Hero Inside". On the album and original tour, Raymond Watts and Hisashi provided the vocals. For this performance, Maki did Raymond's part.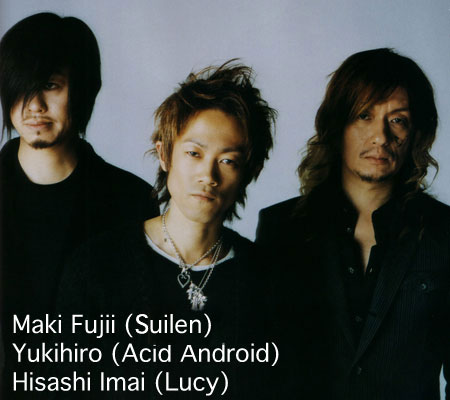 Fish Tank fan club members only concerts were held on November 29 at Nagoya Diamond Hall, November 30 at Osaka Nanba Hatch, December 6 at Zepp Tokyo, and December 7 at Yokohama Blitz.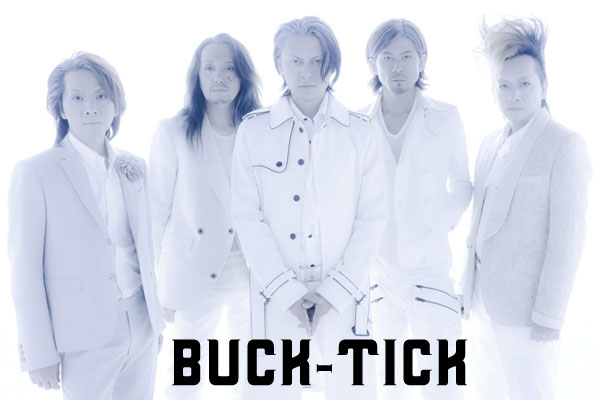 On December 17, the single "Heaven" was released, which was the first from the new album the band would release in the following year. It featured artwork where the band was wearing all white clothing and even their hair was painted white. The b-side was also a track from the upcoming album.
The annual "The Day in Question" shows were held on December 18 at Kyoto Kaikan, December 23 at Act City Hamamatsu, and December 29 at Nippon Budoukan.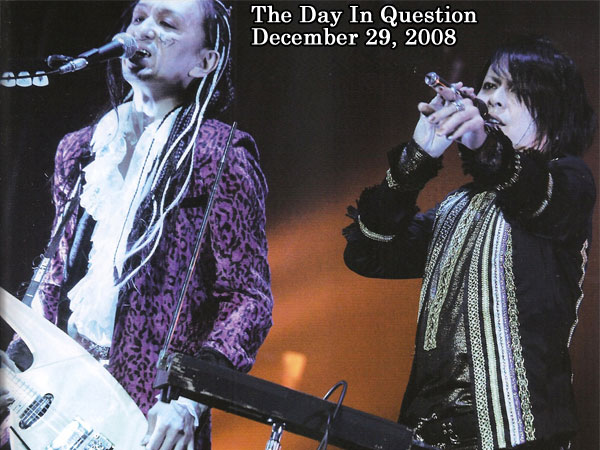 [this page was last updated on 2013.03.09 @ 19:58:05 CST]