2010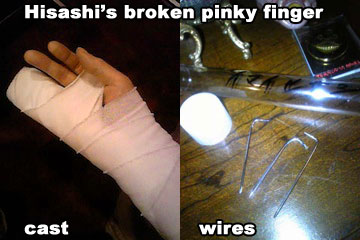 Hisahi broke his right hand's pinky finger on January 1st. Normally this would be cause for concern as it's the hand he uses to fret the guitar. However, he recovered quickly. The doctor removed three metal wires from his pinky and upon removing the cast, asked Hisashi if he would like to keep it as a memento so Hisashi took the wires home and blogged about it. This injury may have inspired Hisashi for the upcoming album as there would be a track entitled "Django". Jean "Django" Reinhardt was a famous Belgian gypsy guitarist who became known in France in the 1930s-1940s for his jazz stylings. Django lost the use of his ring finger and pinky after being badly burned in a fire at age 18. He had to re-learn the guitar with only 2 fingers and was able to do more with just 2 fingers than most can do with 4 in my humble opinion.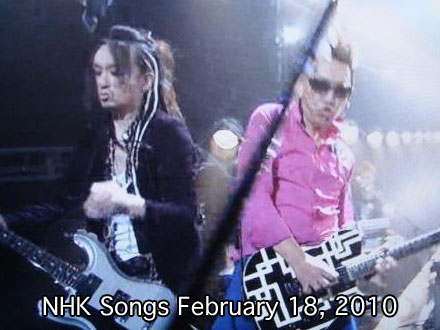 Tomoyasu Hotei, former guitarist of Boøwy, performed on tv for the show "NHK Songs" on February 18. Hisashi joined him for the song "Guitarhythm" and would appear on his album the next year.

There was a tribute show for Atsushi Okuno on March 17, who was formerly the vocalist of Rogue and was also in U-ta's side project Wild Wise Apes. (Okuno was paralyzed after an accident two years prior.) It was called "'All We Need is Okuno ♥' ~Rogue→Future~" and was held at Kouenji Show Boat in Tokyo. U-ta made a guest appearance and played bass on the song "Gomibako Wo Moyase" (Burn the Trash Can). On March 20, during the tour finale for Abingdon Boys School at Chiba Makuhari Messe Event Hall, the band played their cover of "Dress" during the encore. To the audience's surprise, Atsushi came out to join the band during the chorus.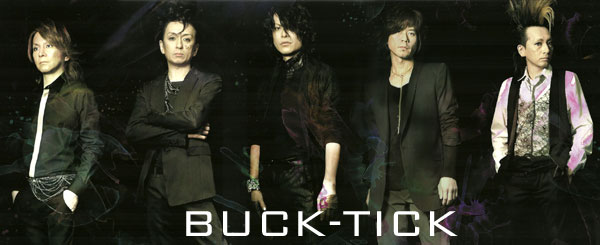 On March 24, the single "Dokudanjou Beauty" was released. This was the first single from the upcoming album. There were 3 editions of the single sold: regular CD, CD with bonus DVD containing live footage from the October 11, 2009 show at Zepp Tokyo, and a limited edition CD that included Buck-Tick figure dolls for all 5 members. "Dokudanjou Beauty" became the ending theme song for the second season of "Battlestar Galactica" (2004 American series), known simply as "Galactica" in Japan.
The Greens Corporation, which is in the business of promoting artists and holding concert events, held a special commemorative concert on August 28 entitled "Greens 20th Anniversary Live ~Thanks to All!!~ Special 2010" at the Izumiotsu Phoenix in Osaka. Among the performers were Buck-Tick, Taiji Sato (Theatre Brook), Char, Crazy Ken Band, Masayoshi Yamazaki, Kotaro Oshio, and Atsuki Kimura.
On September 1, the second single from the upcoming new album was released entitled "Kuchizuke". The song was used as theme music for the cartoon show "Shiki" (Corpse Demon). The show also used "Gekka Reijin", another track from the upcoming album, as the ending theme song. There were 3 editions of this single as well: regular CD, CD with bonus DVD, and a special edition version with artwork from "Shiki" as well as the tv version of the song.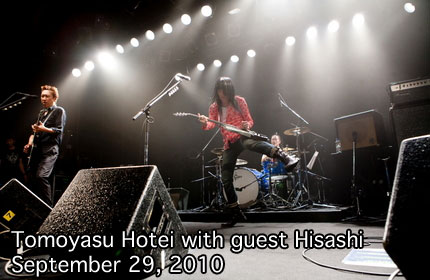 On September 29, Hisashi once again joined Tomoyasu Hotei as a guest performer at his live show in Ebisu, Tokyo. The show was part of a monthly series with Hotei for Liquid Room's 6th anniversary. Hisashi played on the songs "C'mon Everybody", "Beat Emotion", "Image Down", and "Supersonic Generation".

On October 13, the album Razzle Dazzle was released. The album featured Cube Juice on 3 songs playing synthesizer and doing some programming. Previously he had worked with Atsushi during his solo efforts in 2004. The usual keyboard/programmer Kazutoshi Yokoyama appeared on all the tracks Cube Juice did not appear on. Lucy from Lazy Guns Brisky provided vocals during the chorus of "Dokudanjou Beauty -R.I.P.-". It's my personal opinion that this album was the flip side of the gothic Juusankai Wa Gekkou. This album is more upbeat and disco, but has the band's dark edginess to it as well.
The supporting tour, "Tour 2010 Go On the Razzle Dazzle", began on October 15 for 25 dates through December. It started in Saitama and ended in Nagoya. They held an additional date for the tour on December 29 at Nippon Budokan, rather than label it "The Day In Question" as they usually do. During the tour, they played in Toyama prefecture for the first time. (For those keeping count, the prefectures Buck-Tick has yet to play at this point in time are: Oita, Saga, Tokushima, and Tottori.)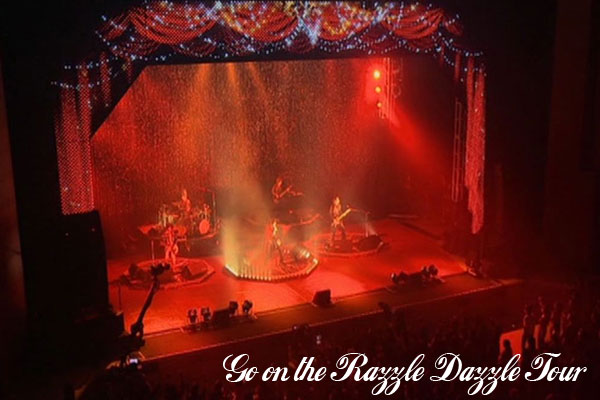 Acid Android (side project of Yukihiro from L'Arc~en~Ciel) released a mini album entitled Code on October 27. Hisashi appears on the song "Balancing Doll".
Der Zibet reformed in the 2000s and released Kaikoteki Mirai ~ Nostalgic Future on November 10, a compilation of self-covers, live versions, remix versions, as well as new songs. Atsushi provides vocals on "Masquerade" as he did when it was first released in 1991.
On December 1, Romantist ~The Stalin • Endo Michiro tribute~ was released. It is a tribute album for The Stalin and Michiro Endo (vocalist of The Stalin) in commemoration of Michiro's 60th birthday. The Stalin were a very important punk band in Japan and important to Buck-Tick as when the band first started as Hinan Go-Go, they would play covers of The Stalin. For the tribute album, Buck-Tick covered "Omae No Inu Ni Naru" by Michiro Endo. The song is originally from his first solo album and itself is an homage/cover of "I Wanna Be Your Dog" by American punk band The Stooges. (I must note that the title translation is more akin to "I'm Gonna Be Your Dog".) It is more of an homage than cover because Michiro intended to cover several Western songs but ended up turning "I Wanna Be Your Dog" into an original song entitled "Omae No Inu Ni Naru".
The shows held on December 15 and 16 at NHK Hall Osaka were recorded and released on video the following year. This was part of the "Go On the Razzle Dazzle" tour.

At the end of the year, "Rockin' On Japan" magazine held a 4 day concert event called "Rockin' On Presents Countdown Japan 10/11" at Makuhari Messe Kokusai Tenjijo in Chiba City. Buck-Tick performed on December 28 on the Galaxy Stage. Other performers on the same day were Kinniku Shojo Tai, Puffy, Michiro Endo, 10-Feet, Zazen Boys, etc. Performers on the other days included Pay Money To My Pain, Tokyo Ska Paradise Orchestra, The Pees, Mucc, Orange Range, Ogre You Asshole, 9mm Parabellum Bullet, 175R, AA=, Polysics, Hige, MCU, and many others.
[this page was last updated on 2016.07.30 @ 23:29:20 CDT]