2013
Toll was a guest performer at Makoto Takahashi's (ex-Boøwy) 59th birthday concert entitled "Rock or Soul Over Drive" on January 6 at Duo Music Exchange. He played drums for "NYC 1980" and "Wine To Oppai". Toll also engaged in a drum battle on the song "Arashi Wo Yobu Otoko" (cover of Yujiro Ishihara).
On January 20, the "Tour 2013 Cosmic Dreamer" tour began in Okinawa for 11 dates and ended in Tokyo at Tokyo Dome City Hall. Buck-Tick played at Tokyo Dome in 1989 and have not returned since. Tokyo Dome City Hall is a smaller venue. During this tour, the band played in Oita and Tottori prefectures for the first time. Buck-Tick have finally played in all the prefectures of Japan! Buck-Tick added an extra date at the end as a charity gig to help with the reconstruction following the Tohoku disaster.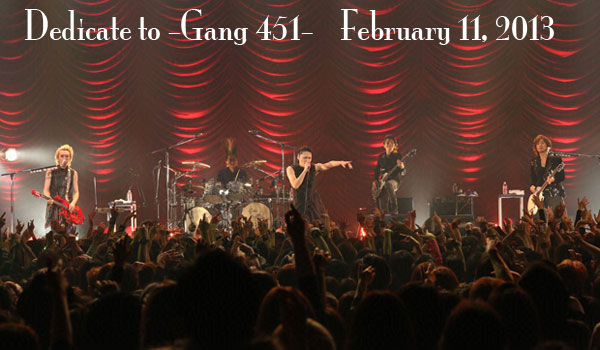 On February 11, Buck-Tick played at the "Dedicate to -Gang 451-" event that was held at Zepp Namba in Osaka. The event was dedicated to deceased Osaka area DJ Kunie Yokoi. Other performers include Tokyo Ska Paradise Orchestra, Kishidan, and Ore Ska Band.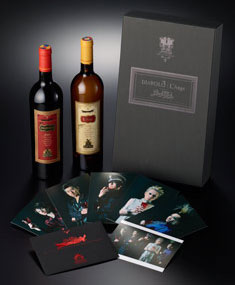 On February 20, the video Buck-Tick Fest 2012 On Parade was released on DVD and Blu-ray.
As part of the 25th anniversary, a special Buck-Tick set of wine was made available to order in March. The set was a limited edition of 1000 and consisted of Diabolo red wine, L'Ange white wine, 6 postcards of the members (autographed), and a box for a cost of ¥15,750. Both wines were 750ml, produced in Chile, and were 15% alcohol by volume.
On March 29, a 25th anniversary commemorative book entitled B-T Data was released.
On May 15, the live video Tour Yume Miru Uchuu was released on DVD and Blu-ray.
A 25th anniversary commemorative movie, Buck-Tick Genshou, was released in two parts showing for 2 weeks each in theaters. Each part had new Buck-Tick songs as the theme songs for the movie. Part 1's theme song was "Love Parade" (Atsushi/Hide) and Part 2's theme song was "Steppers -Parade-" (Atsushi/Hisashi). Part 1 opened on June 15 and Part 2 opened on June 22, causing a one week overlap where both parts where available to watch in theaters. Over the summer, the movie was popular enough that more theaters were added to the schedule and some theaters extended their screening. Overall, these were shown in major cities in every region of Japan except for Okinawa so most fans would be able to see the film, even if a bit of travelling was necessary.
Before the films were released nationwide to a limited number of theaters, there was a special screening of both parts on June 1 in Fujioka City in Gunma, which is often cited as the band's hometown (only U-ta and Toll are not from Fujioka but U-ta went to high school in Fujioka). The director of the film, the town mayor, and Buck-Tick members were in attendance.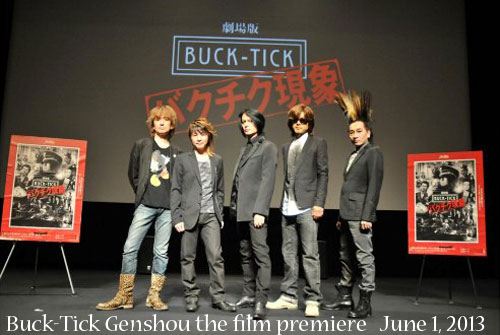 Toll's birthday was once again celebrated with "It's a Now!" commemorative concerts, this time, however, without Buck-Tick. Yagami Toll & New Blue Sky performed at Live Square 2nd Line in Osaka on August 17 and at Shimokitazawa Club 251 in Tokyo on August 20. The guest was Shime.
On September 14, Buck-Tick performed at "Kishidan Banpaku 2013" held at Sodegaura Kaihin Koen in Chiba. It was a 2 day festival organized by the band Kishidan. There was a special virtual concert by the deceased Hide (formerly of X Japan) that Hisashi participated in as well. Others performing "with" Hide included J (Luna Sea), Hisashi (Glay), Ken Morioka (Soft Ballet), and Tetsu (D'Erlanger). Other artists appearing at the 2 day festival included HY, Vamps, Kuroyume, Sharan Q, Tokyo Ska Paradise Orchestra, and Man with a Mission.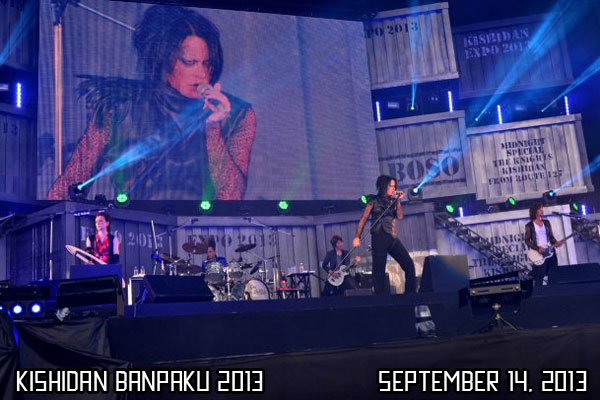 On September 22, Buck-Tick performed at "The Solar Budokan" held at Nakatsugawa Koen in Gifu. The 2 day festival included such artists as Hige, Miyavi, Zigzo, Mayo Okamoto, Kodomo Bando, Kenji Endou, Soil & "Pimp" Sessions, Taiji at the Bonnet, and Theatre Brook. The festival was organized by Taiji Sato of Theatre Brook, who contributed a song to Atsushi's solo album. The entire concert was powered by solar energy. This was the second time Taiji had organized a solar concert.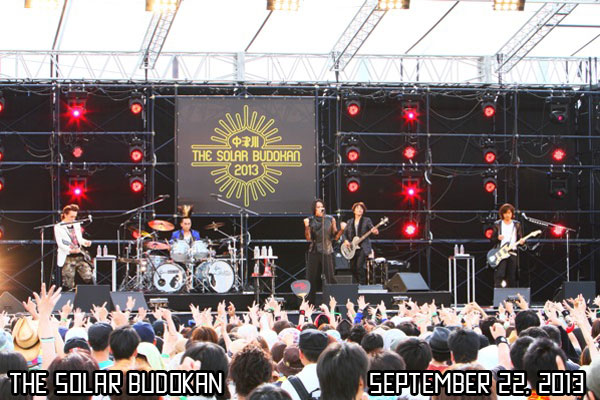 In November, Buck-Tick official smart phone cases were for sale for several cell phone models including iPhone, Galaxy, Xperia, and Arrows. Besides a group photo case, individual member photo cases as well as member inspired designs were available.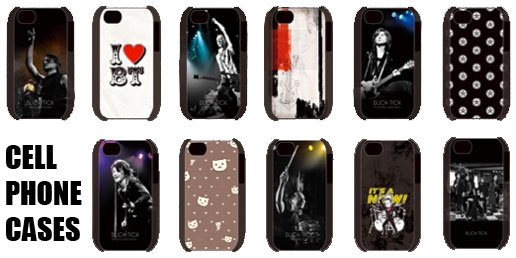 On December 18, Hide Tribute VII -Rock Spirits-, another in the series of tribute albums for Hide (X Japan), was released. Yukinojo Mori covered "Eyes Love You" with a guest appearance by Hisashi.
In December, Buck-Tick held the annual "The Day In Question" shows with 4 performances starting on the 14th in Miyagi and ending on the 29th at the Nippon Budoukan. The Budoukan show streamed live on Yahoo! Japan's web site for premium members.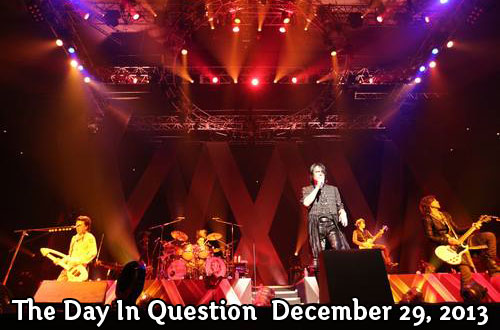 [this page was last updated on 2014.02.18 @ 20:21:33 CST]