2012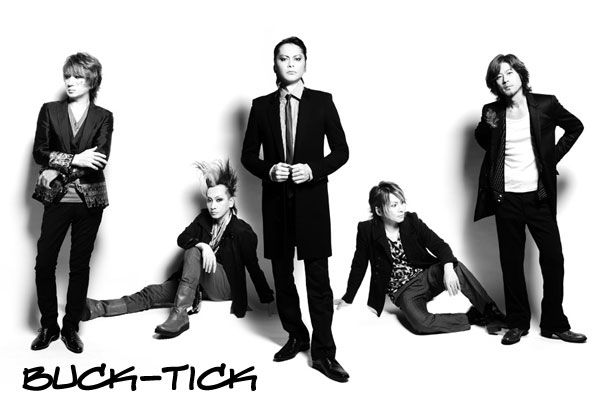 2012 marked another major milestone for Buck-Tick--their major debut 25th anniversary! This of course means that they must take photos in poses similar to their group shot in 1987. There were many activities throughout the year to commemorate the anniversary. The band worked hard at various promotion schemes such as several radio interviews, magazine interviews, tv appearances, playing at festivals, new music/videos/books, releases with download incentives, signature instruments for sale, contests, social media activity, and other events. It was a costly year for fans to keep up with all of the releases and activities.
There was a Fernandes exhibition of Hisashi custom model guitars. These were held January 21-29 at Takasaki Music Land, February 4-12 at Akihabara Ribore, February 18-26 at Shibuya Music Land, March 3-11 at Plug-In (Yes), March 17-25 at Aeon Mall Takaokaten Kaishindo, and March 31-April 8 at Umeda Ishibashi.
On March 7, two major compilations were released: Catalogue Victor/Mercury 87-99 and Catalogue Ariola 00-10. These two compiled songs on CD from the respective eras Buck-Tick spent on the aforementioned record labels and included music videos on DVD. The CD and DVD portion was a catalogue of music videos for the singles in chronological order whereas the bonus CDs were more by the fans, for the fans. These CD songs were voted in by fans the year before. Fans were asked to vote for their favorite songs from a pre-determined list online. The CDs are arranged in reverse order of popularity. The DVD included bonus footage of rarer performances from what was aired on tv and concert clips.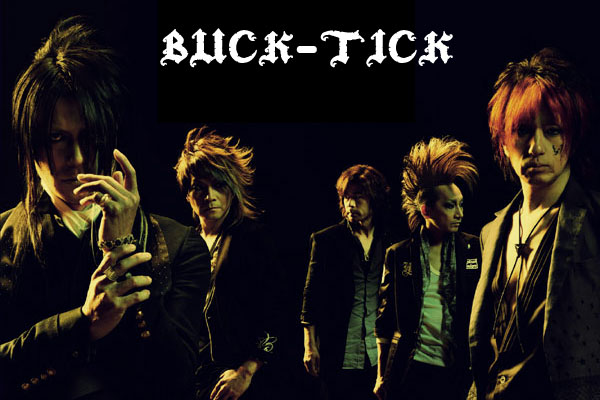 On May 23, "Elise No Tame Ni", the first single from the upcoming album was released. The b-sides included a self-cover of "Sane". There were 2 versions released: regular CD and limited edition CD with bonus DVD containing live footage from the December 18, 2011 show at Zepp Sendai. There were also incentives to download the song at various web sites, such as receiving a picture to download. "Elise No Tame Ni" became the opening theme for "Happy Music". Also on May 23, The Day In Question 2011 live video was released. These were the first items to be released on the band's newly established label Lingua Sounda.
On June 9 and 10, Buck-Tick held the "At the Night Side 2012" concerts at Hibiya Yagai Ongakudo in Tokyo. (June 9 was for Fish Tank fan club members only.) Previously the title of "At the Night Side" was used for a live album and video but was not used for a concert.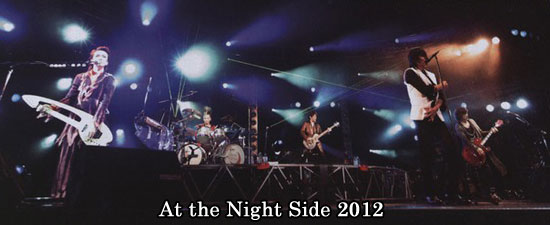 The Studio Life stage production of "Tenshu Monogatari" was performed with an all male cast at Kinokuniya Hall in Tokyo on June 9-24 and at Umeda Geijutsu Gekijo Drama City in Osaka on June 30-July 1. Hisashi wrote the theme song. This was his first participation in stage music. A DVD of the performance was released on October 6. The artwork for the play was drawn by Akira Uno, who also drew the artwork for Razzle Dazzle.
On July 4, the second single from the upcoming album was released entitled "Miss Take ~ Boku Wa Miss Take". The b-sides included a self-cover of "My Baby Japanese" (originally a b-side as well). There were 2 versions released: regular CD and limited edition CD with bonus DVD containing the music video for "Miss Take ~ Boku Wa Miss Take". Also on July 4, the book Buck-Tick Guitar Archives 1987-2012 was released. It contains a guitar history of both Hisashi and Hide and includes photos and information of guitars they acquired prior to 1987. The book also features the latest custom model guitars for both Hisashi and Hide that are available for purchase by the general public. A third item was released on July 4, the tribute album Parade II - Respective Tracks of Buck-Tick. This is the second "Parade" tribute album. Originally, it was announced that Sophia would be on the tribute album but something happened and they did not appear on it. Same as before, the band embarked on a Parade tour with a different opening band each night from the tribute album and also held a festival with the bands that appeared on the tribute album. The "Tour Parade 2012" began on June 17 and lasted through July 7.
An official Facebook page was created for the tribute album and the upcoming new album. This appears to be the first official Facebook activity for the band. There were even exclusive Facebook contests.
After midnight on July 14, the band appeared on the TBS television show "CDTV Special Natsu Festival 2012". They performed "Aku No Hana" and "Miss Take -Boku Wa Miss Take". Takanori Nishikawa sat next to the band on the interview bench but didn't bring any hamsters.

Buck-Tick was a guest on the television show "J-Melo", which is NHK's way of making Japanese music known to the world. There is English used in the show and it is broadcast in other countries. The show was broadcast on various dates depending on the channel and country. The first broadcast was on July 9 on NHK World. The band answered questions sent in by international fans, though the questions were translated and the wording in the original language was not revealed. The band answered in Japanese and giggled over the questions, though I'm not sure if it's due to a translation issue or if they just thought the questions were odd. The band also played several songs for the show: "Dokudanjou Beauty", "Romance", "Hamushi No You Ni", "Django", and "Elise No Tame Ni".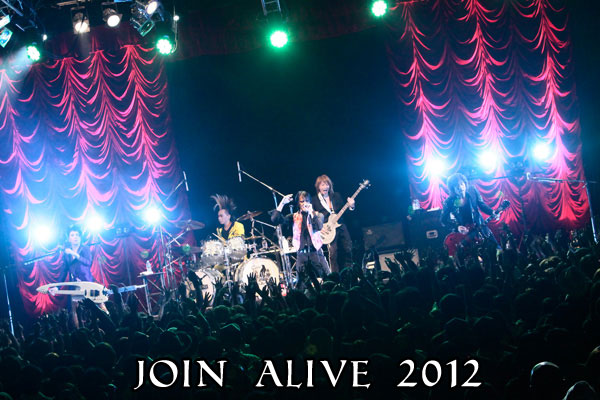 Buck-Tick was one of the bands who performed at "Join Alive 2012", held at Iwamizawa Kouen in Hokkaido for two days. Buck-Tick performed on July 21.
New custom models of Hisashi and Hide guitars became available for purchase on July 27. These were the "dazzler" and NSG-HH (SG type body) custom models.
On August 5, the music video for "Climax Together" was filmed as a live performance with 300 lucky fans in attendance who were there by winning a contest.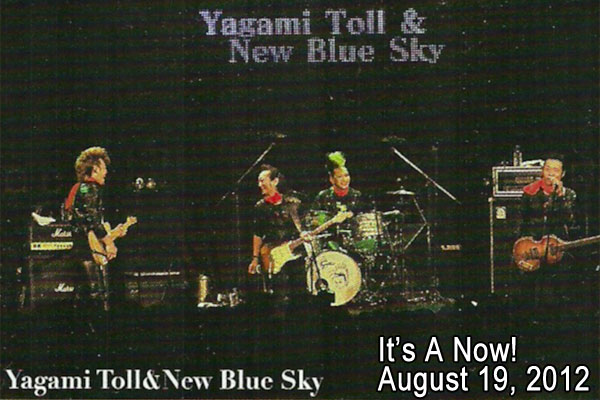 There was a very special live event entitled "It's A Now!" held on August 19 to commemorate Toll's 50th birthday. He reformed his side project band, this time as Yagami Toll & New Blue Sky, invited several of his band friends to play at the show, topped with a set by Buck-Tick. The New Blue Sky dressed in leather jackets and red scarves like Carol and sang 6 cover songs, including "Funky Monkey Baby". It was the only song from the actual Yagami Toll & the Blue Sky album released in 2004. The band consisted of 2 guitarists and 1 bassist but I do not know their names. Toll drummed with a simpler kit with a single bass drum. It was very 1970s overall. Next was Loopus, fronted by Chuya (formerly of De+Lax) and includes Ritsu Saito on guitar (he was in Stalin in the early 1990s). They performed 5 of their songs. The next band was Der Zibet who performed for 6 songs. They were joined by Atsushi to peform "Masquerade". After that, Toll's good friends Auto-Mod took the stage for 5 songs. Toll joined them for their final song "Requiem". Finally, Buck-Tick performed for a total of 12 songs. They played mostly newer songs and the entire encore was comprised of songs from the new album. The oldest song they played in the set was the opener "Kirameki No Naka De..." (1993). Toll performed with his full kit, including twin bass drums. (If you're keeping track, that means that after this concert, only Hide has not performed live outside of Buck-Tick. Neither for a side/solo effort nor as a guest artist at another musician's show.)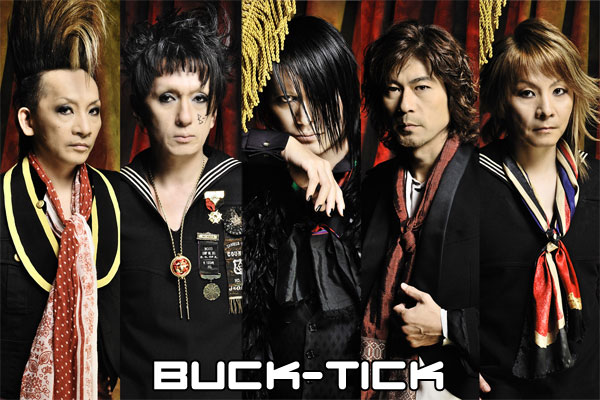 Buck-Tick appeared on NHK's "Music Japan Annex" program on August 24 but it was taped on August 6. A Buck-Tick Special aired on Space Shower TV Plus on September 3.
On September 19, the album Yume Miru Uchuu was released. The album contained a song whose title, "Climax Together", had used a couple times for concerts since the 1990s. The limited edition version included artwork by Gustav Klimt and a bonus DVD with a music video for the song "Climax Together" and live footage from the June 10 concert at Hibiya. (Cool side note: on the day of the album's release, Hisashi's blog entry talked of him runing into fans as he was walking down the street, even someone who just bought the album so he signed it.) Also on September 19, the book Simply Life was released exclusively through Tower Records Japan at first. It is a compilation of 12 years of interviews with Hide each June, his birthday month. It gives fans insight into Hide's history and the band's history from Hide's perspective. There are exclusive photos as well.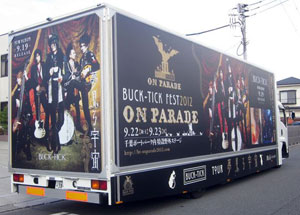 To promote the new album and the Buck-Tick Fest On Parade 2 day concert, a 'wrapping bus' made its way around central Tokyo from September 17-23. A wrapping bus is what Japanese call a vehicle that has an image or ad that is so large, it wraps around it. That's an easy way to remember in English though technically an incorrect explanation. These are not always buses. In this particular case, Buck-Tick's wrapping bus was more like a tour truck.
The "Buck-Tick Fest On Parade 2012" was held over 2 days on September 22 and 23 at Chiba Port Park. The previous festival was a 1 day event. Unfortunately it rained on the second day but it did not spoil the show. Each day the festival took place at 1:30pm-7:30pm. It may be considered quite early to end such an event in other countries but Japan's on a strict train schedule and it's important that fans are able to get home the same night. A month after the festival, Wowow aired performances from the festival and then aired an expanded 5 hour special version another month later.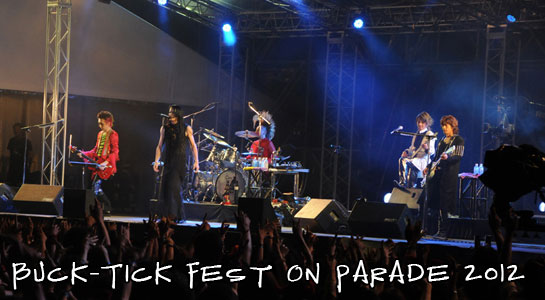 Highlights from the performances for the festival were as follows. Day 1: Merry covered both "Makka Na Yoru" and "Aku No Hana". Mucc covered "Jupiter". cali≠gari covered "Misty Zone" with Hisashi and then without him they also did "Love Me". Breakerz covered "Just One More Kiss". The members wrote on their body "B-Z" as well. Acid Android covered "Sexual XXXXX!". Lowbrows did their remix of "Elise No Tame Ni" and also performed "Speed" with Hisashi. Then it was Buck-Tick's set. During the encore, the band was joined by Ao Sakurai (cali≠gari) and Gara (Merry) during "Iconoclasm". Day 2: Kishidan covered "Machine". Polysics covered "Sid Vicious on the Beach" with Hisashi and U-ta complete in Polysics uniforms. N'Shukugawa Boys covered "Empty Girl". Pay Money to My Pain covered "Love Letter" with Hisashi. AA= covered "MAD". D'erlanger covered "Iconoclasm" with Die from Dir en Grey. Then it was Buck-Tick's set.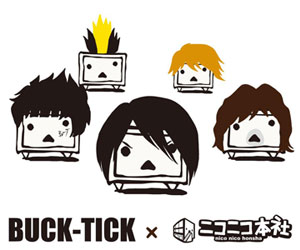 Buck-Tick worked with Nico Nico several times throughout the year. The video website aired a special where they looked back on 25 years of Buck-Tick. They also aired previus live videos. The band also made appearances. FM802's "Bintang Garden" program aired a special on Nico Nico called "BT25 - Horobi Shirazu No Decadence". For 1 week, there was a special Buck-Tick x Nico Nico collaborative cafe held at Nico Nico's headquarters in Harajuku. This took place September 15-21. The cafe was sort of like a little museum with videos, concert costumes, instruments, photos, a cafe with a Buck-Tick inspired menu (limited food items and a few non-alcoholic beverages), and a shop with exclusive merchandise. A listening party for the new album was held at the collaborative cafe on September 17 and a karaoke festival on September 21. The shop sold collaborative merchandise with the members drawn as monitor screens on a t-shirt and towel. There was even a Buck-Tick photo booth machine.
The "Yume Miru Uchuu Tour" began on October 6 for 27 dates. The tour started in Kanagawa and ended at the Nippon Budokan, rather than having a "Day In Question" concert. Live shots from all shows on this tour were for sale through Pia Memorial Card Service. For this tour, the band played in Tokushima and Saga prefectures for the first time. This leaves Oita and Tottori as the only prefectures that Buck-Tick has not played live.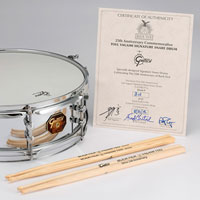 Around this time it was announced that 2 signature Toll snares made by Gretsch (S-4514B-TY & S-4514S-TY) would be available for purchase and would be numbered and include Toll signature sticks as well. Toll has previously had signature drum sticks for sale but this is his first signature drum item whereas Hisashi and Hide have had custom guitar models for sale since the late 1980s. Also around this time, digital lithographs of Buck-Tick marching in the snow illustrated by Masamichi Oikawa were available for purchase. The band also announced that there will be a Buck-Tick movie released the following year and that they have 500 hours of footage to edit. Perhaps it will be another documentary style release such as Picture Product but this time given a theatrical release as well.
On December 26, Victor released Blu-ray editions of several Buck-Tick videos previously available on VHS/DVD: Buck-Tick Genshou at the Live Inn (first time on DVD as well; previously written as 'Live at the Live Inn'), Sabbat, and Climax Together. A boxed set version, B-T Live Product -1987/1989/1992 Victor Years-, was also available that included a bonus multi-angle disc. If the boxed set was purchased through Victor's website, then original photo cards were also inclded. These Blu-ray editions included bonus incentive, such as the Buck-Tick Genshou at the Live Inn had the June 20, 1988 Nissin Power Station concert. For the other videos, a new edit was released and the old edit was included.
At the end of the year, "Rockin' On Japan" magazine held a 4 day concert event called "Rockin' On Presents Countdown Japan 12/13" at Makuhari Messe Kokusai Tenjijo in Chiba City. Buck-Tick performed on December 28. Other performers on the same day were Asian Kung-Fu Generation, HY, 9mm Parabellum Bullet, Hige, Merry, Mongol 800, N'Shukugawa Boys, etc. Performers on the other days included Dead End, Kishidan, Orange Range, Bonnie Pink, Polysics, and many others.
[this page was last updated on 2016.07.30 @ 23:04:44 CDT]