2001
Buck-Tick were supposed to appear on the Stalin tribute album 365: A Tribute to the Stalin that was released on January 24 but the deal fell through. They were supposed to cover the song "365". Buck-Tick started off playing covers of the Stalin so it would have been a fitting tribute. They were able to appear on another Stalin tribute album nine years later.
The live album and video One Life, One Death Cut Up were released on March 28. This was a recording of their last show of the 20th century on December 29, 2000 at the Nippon Budokan.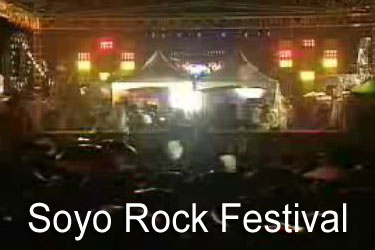 On July 29, Buck-Tick played at the "Soyo Rock Festival" in Dongducheon, Seoul, Korea. It was a 2 day festival and there was bad weather when Buck-Tick performed. Other performers that year included Megadeth, Cul-de-Sac, Blackhole, etc. At the time, Buck-Tick did an interview on Korean television in which they mention that the last time they went to Korea, they were unable to play live. They were referring to the fan meet and greet 1 year prior.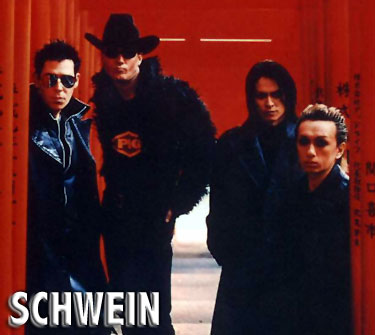 Atsushi and Hisashi became involved in the side project Schwein, with Raymond Watts (Pig) and Sascha Konietzko (KMFDM). Considering the members, Schwein may be thought of Schaft part 2. Schwein's releases and tour were held in Japan so it seems to be a Buck-Tick project. Schwein means "pig" in German so this seems more like a Raymond project just by that implication. From what I can assess, that is actually true. Raymond wanted to break some boundaries and unite musicians from several countries. Raymond first got the idea for the project when Pig opened for Buck-Tick during a few dates in 1999 but it was not until summer of 2000 that he contacted Atsushi, Hisashi, and Sascha (KMFDM) and talks of the project truly began. From this project, a bromance between Atsushi and Raymond developed to the point that rings were involved.
Schwein's album Schweinstein was released on May 9. They toured in August but without Sascha. The live band comprised of Jules Hodgson (guitar), Bryan Black (keyboard), Andrew Selway (drums), and Arianne Schreiber (backing vocals). The tour was entitled "Schwein Fest Tour Japan 2001" and lasted for 8 dates. The cities included Yokohama, Fukuoka, Osaka, Nagoya, Sendai, and Tokyo. They would play some Schaft, Pig, and Buck-Tick songs. The other Buck-Tick members did attend a Schwein concert. (I wonder how it felt for them to watch Atsushi and Hisashi play Buck-Tick songs without them.) Unfortunately, no live videos were released. The Son of Schweinstein remix album was released on September 5. No singles were released but the remix album did feature a bonus video for "You're My Disease" which was apparently filmed in the New York City area. The video features just Atsushi, Hisashi, and Raymond. They were in New York for about 5 days. Atsushi wasn't interested in shopping but Hisashi expressed that he would like to return. It was a business trip so the only time they'd go out was to eat and drink.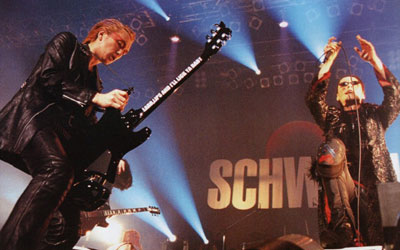 "21st Cherry Boy", the first single from the new album was released on November 21. The new album would be released on the following year.
On December 29, Buck-Tick played their first "The Day In Question" gig at the Nippon Budokan in Tokyo. How once the band liked to label special shows as "Buck-Tick Genshou", in the 2000s they like to label special end of the year shows as "The Day In Question". These are like annual commemorations of their phoenix-like resurrection. In 1989, after a lengthy silence from Hisashi's arrest, the band played at Tokyo Dome, the largest venue in Japan, on December 29. The annual Day In Question shows are held around this time. Sometimes there is only 1 date on the exact same day, other times there are a couple shows around this date. They are usually held at Nippon Budokan, where Buck-Tick filmed the end of the Seventh Heaven tour in January 1989 and sold it as the video Sabbat.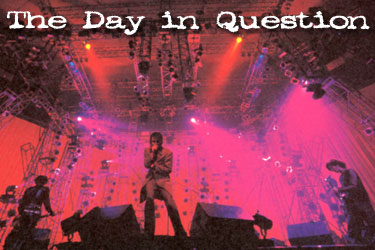 [this page was last updated on 2016.07.30 @ 22:38:49 CDT]