1995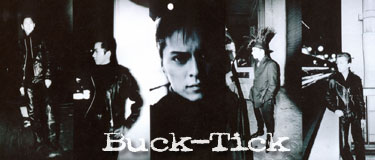 On March 24, Buck-Tick released a single from their upcoming album entitled "Uta". A second single, "Kodo", was released on April 21.
In April, Buck-Tick held a film concert at 7 locations, just as they had done with "Satellite Circuit". The film that was shown was probably not a concert per se but music videos for the entire upcoming album. I'm not completely sure about this but if you are interested in these music videos, they are available in the video Picture Product.

On April 7, Buck-Tick appeared on a special episode of the television show "Music Station". They performed "Aku No Hana" and "Uta". At the end of "Aku No Hana", Atsushi replaced one of the "I I'm falling down" lines with "Ore wa ochiru" which means the same thing in Japanese (or "I fall down" to be more precise). They performed on a small stage surrounded by fans and at times you can hear them scream and sing along. In typical Hisashi fashion, he makes it clear that he's not playing guitar as they're using backing tracks. It's not that they didn't want to play live, though Atsushi is definitely singing live, it's that they've had bad luck with guitar sounds cutting out during tv performances. This appears to be their last performance ever on the show even though as of the end of 2012, the show is still airing.
I am not sure of the date but they also appeared on the television show "Music Park" to perform "Uta" and "Kodo". During the interview, the hosts asked superficial questions such as on their hair. Atsushi stated that 2-3 years after their debut, he stopped putting his hair up because it became a pain in the ass. Then he grew his hair long but cut that off because it also was a pain in the ass.

On May 14, Buck-Tick played a gig at the Liquid Room in Shinjuku. The show was called "Six/Nine '95.5.14".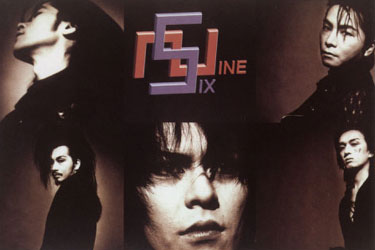 Finally, on May 15, Buck-Tick released their new album and it was called Six/Nine. The next day they embarked on the "Somewhere Nowhere Tour" which lasted for 29 dates. Starting with this tour, the amount of dates to support an album were cut back, perhaps due to the declining popularity (sales) of the band as well as the members wanting to take it easier as they were quite exhausted in their early days due to the hectic live/recording schedules. Cutting back the touring schedule in no way meant that they were cutting back from their live stage budget nor the quality of their live performance. This tour occurred in reverse in a sense as it started at the Nippon Budokan for 2 days when their tours often end in Tokyo at a big venue such as the Nippon Budokan. The tour ended in Osaka for 3 dates, the first time they ever played 3 shows in a row at the same city.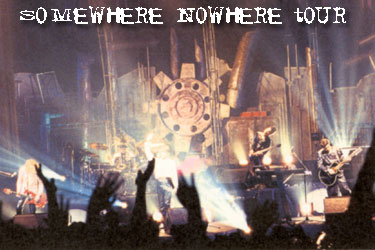 Issay, who sang guest vocals on the song "Itoshi No Rock Star", also made a guest appearance at the beginning of the tour on May 17 at the Nippon Budokan in Tokyo and also on the last day of the tour at the Osaka Kousei Nenkin Kaikan to perform the song live. (Both of those shows were actually 2 dates in the same city so perhaps Issay joined for both dates.) For this album, the band adopted an all leather sort of look with their outfits, much more so than the semi-leather look adopted during Darker Than Darkness. Additionally, they also did photoshoots with all the members dressed in white. It was during this period that Toll adopted his hair through hat look and Hisashi wrote "BiTch" on his cheek instead of just plain "B-T". (Part of the lyrics for a song on the album is "I wanna live just like a bitch".) During the tour, most if not all the members wore the Six/Nine necklace that was sold as part of the tour merchandise.
On August 15, Hisashi made a guest appearance at a The Stalin 15 (a later incarnation of Stalin) concert at On Air East. The show was recorded and a live album Shinda Mono Hodo Aishite Yaru Sa released on December 1. Hisashi plays guitar on the tracks "No Fun" and "Mushi". How wonderful it must have been for Hisashi to play with Stalin, the band whom Buck-Tick covered at their first gig eleven years earlier. I am not sure how the invitation was extended to Hisashi for him to play on that but I do have a magazine from 1991 with a joint interview with Hisashi and Stalin vocalist Michiro Endo. Perhaps they have been friends since then or even before. (In the interview, Michiro was surprised to learn that Buck-Tick started off playing covers of Stalin!)
On September 21, "Mienai Mono Wo Miyou To Suru Gokai Subete Gokai Da" was released, the third single from the album.
On December 1, a compilation of singles (A-sides only) entitled Catalogue 1987-1995 was released as an album and as a video. The video crosses into a previous's video's territory, Buck-Tick from 1991, which gives a much better historical view of the band by including videos other than singles. (Note that 1987-1995 are the years Buck-Tick was signed to Victor/Invitation and not the years that the singles were released.) The DVD edition of the video included "Candy" music video whereas the VHS did not. After the release, Buck-Tick recorded only one more single for Victor/Invitation as they had grew dissatisfied with their label. There was probably already talk of this parting so it is likely what prompted Victor/Invitation to release this compilation.

[this page was last updated on 2014.02.19 @ 01:06:52 CST]