1988
I'm not sure exactly when it occurred, perhaps towards the end of 1987 or the beginning of 1988, but there were a series of "Buck-Tick Special" video concerts AKA "Captagon Vol. 23" and "Captagon Vol. 25". The Captagon company, run by Buck-Tick's record label Victor, held these video concerts for various bands and Buck-Tick was the main band for this edition. In Vol. 23, footage from Buck-Tick performing at Nippon Seinenkan on December 11 was shown. I'm not sure what was featured though in Vol. 25. At some point in the year, Buck-Tick was also featured in "Captagon Vol. 30".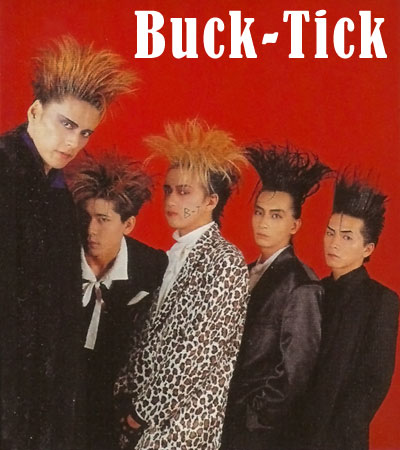 In January, (on the 5th, 7th-9th, 11th-15th, 19th-20th), Buck-Tick were in the studio recording. They were left pretty much to their own for production, which meant a lot of fun in mixing. The result was a mini-album as they say in Japan, or an E.P., released on March 21 called Romanesque, which ranked number 20 in the singles chart.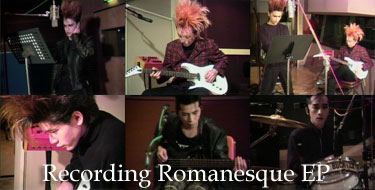 For television appearances, there were several throughout the year. Buck-Tick appeared on the TVK show "Live Tomato" on January 6. The band also played at Meguro Rokumeikan for broadcast on the TBS program "Live Town" on January 17. The next day, January 18, they recorded another television program appearance for NHK's "Young Studio 101".

On January 24, the band held a secret gig at Shinjuku's Loft and played as the group Bluck-Tlick. Partway through the gig the band changed costumes and played as Buck-Tick. Later in the year, as described below, a comic book was released based on the band but in the comic the band is called Bluck-Tlick.
All the work the band had been putting in to playing and promoting was rewarded with a party given by Victor at a hotel on February 16.
On February 21, a video entitled More Sexual!!!!! was released. It contained the promotional music videos for "Sexual XXXXX!", "Dream Or Truth", "Hyper Love", "Empty Girl", "Illusion" and credits rolling along footage against the song "My Eyes & Your Eyes".

From February 13 to March 11, Buck-Tick again entered the studio. This time they recorded their second major label album entitled Seventh Heaven. The album jacket photo session was on March 3. The album was released on June 21. No singles were released off of this album either. Though the absence of singles meant a lack of promotion and airplay, Buck-Tick became quite popular through touring. In fact, a magazine survey from 1988 reveals just how popular they were getting. (I don't remember which magazine this was from but I think it was from the end of 1988, possibly published in January 1989.) In it, Buck-Tick ranks in the top 3 for everything good, such as best group, best live, etc. The only categories which Buck-Tick didn't make the top 3 were best keyboard or other player as they did not have one, worst dresser as they dressed super cool, and biggest news because well, this was in 1988 and not 1989. (See the history for 1989 to see what big news happened.)
Buck-Tick played at the Shiodome Pit on April 1 to an audience of 3000. The tickets for the concert sold out in two hours. Please try to keep in mind that this was before the internet so most likely all ticket sales were done in person, quite a feat!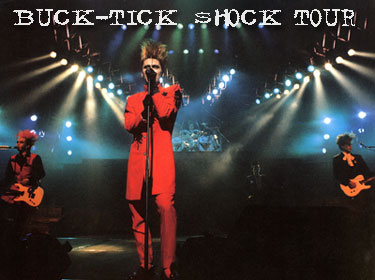 In between the recording and release date of Seventh Heaven, Buck-Tick held many concerts. The pamphlet sold at the "Buck-Tick Shock Tour" lists 34 dates in total. However, the books Hyper and Love Me break this down into the "Touhoku Rock Circuit" for 14 dates and "Buck-Tick Shock Tour" for 20 dates. The "Touhoku Rock Circuit" tour began on March 15 and consisted of the bands Laughin' Nose, Rogue, Personz, Lä-Ppisch, Angie, Ziggy, etc. During the "Shock Tour", Buck-Tick played at Ishikawa Kyoiku Kaikan for 2 dates, the first time the band played at the same venue for 2 dates in a row during a tour.
Besides the "Touhoku Rock Circuit" tour, Buck-Tick played shows with other bands (mini festivals if you will) throughout the year but mostly over the summer. Some of these concerts include "Rock Wave", "Sound On Wave", "Kids Alive" (with De-Lax, etc.), "Kirin Sound Together Pop Hill", and "Pop Rockets" (with Mika Kaneko, Show-Ya, Up-Beat, etc.). The "Buck-TIck Shock Tour" began on April 13.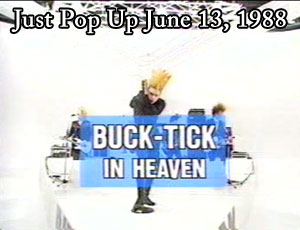 On March 19, they appeared on the Iwate TV show "Television". They appeared on "Pati Pati Tomato" several times throughout the year on May 5, July 16, and December 31. On June 13, they were on NHK's "Just Pop Up". They recorded for "All Night Fuji" on June 25 but I'm not sure if it was broadcast the same day. (All of these for which I'm not sure if it was broadcast the same day, just go ahead and assume that it was or was very close. Most of these appear to be mini concerts held for the broadcasting on the show so perhaps they were live or at least broadcast relatively close to the recorded date.)
On May 1, Buck-Tick were one of the bands performing at "Rock Wave" in Nagoya.
Video footage was shot on May 15th-17th. They were apparently able in this short period to film the music videos for "Physical Neurose", "Victims of Love", and "...In Heaven...".

On June 20, the band did a live recording for radio broadcast at the Nisshin Power Station in front of 600 winners (out of 12000 contestants).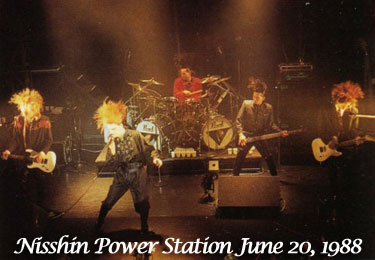 On July 7th-8th and 12th-14th, Buck-Tick were again in the studio. This time they recorded their first major label single. The cover photo session was on August 11 and a video was shot on August 23th-24th. It was called "Just One More Kiss" and released October 26. Though it may have only made it to number 6 on the singles chart, it catapulted their career to stardom as it was used for a commercial.

On July 30th-31th, Buck-Tick shot video footage in at Haneda Airport for a commercial. They endorsed a portable stereo by JVC called "CDian". (Their label Victor/Invitation was owned by JVC/Kenwood.) The song used in the commercial was "Just One More Kiss". Several different print ads ran and I saw two different commercials on television. The commercials were quite similar, the difference was mainly a matter of editing. The slogan was: "Juteion ga bakuchiku suru." ("The heavy low sound will firecracker.") This type of marketing proved quite fruitful as exposing mass audiences to Buck-Tick's music via television catapulted the band towards mainstream popularity. Not to mention the fact that their music was also being given away with purchases of the product. The first people who bought the stereo received a 3 song sampler CD containing: "...In Heaven...", "Romanesque", and "Sexual XXXXX!". [Webmaster's note: despite the heavy marketing campaign, I could not find this stereo nor pamphlets for it with Buck-Tick's image in my area at the time. Perhaps I looked too late or it never made its way to the poorest prefecture.]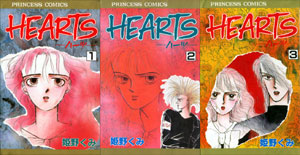 A comic book entitled Hearts was released on July 15. The characters were a struggling band that were modeled after Buck-Tick. The band in the comic were called Bluck-Tlick and each coinincidentally had the same first name as the members of Buck-Tick. The second and third in the series were released on January 10, 1989 and May 15, 1989, respectively.
The band played at "Hokkaido Rock Circuit" in Sapporo on July 24. They also played at "Rock Wave 8" at Fuji-kyu Conifer Forest on August 3. They played at "Pop Rockets 88" on August 15 with various musicians, including Mika Kaneko. Hisashi wrote a song entitled "Watashi No Teki" for Mika's album Kick which was released the same year. Hisashi also wrote a song for Naoko Nozawa entitled "Itoshi No Gaitare" for her album Tonkichi Chinpei Kanta also released in 1988.
The band played at "Sound On Wave 1988" on August 18 at the Sports Ballet in Kyoto. It was at that show that they announced: "Kore kara Buck-Tick wa kami wo tatetai toki ni shika tatenai kara na." ("From now on Buck-Tick will only put up their hair when they want to.") They were beginning to go against Indies big man Sawaki's advice, they were deviating from their established look by letting their hair down.
On August 20, Buck-Tick were one of the bands performing at "Kirin Sound Together Pop Hill '88" in Ishikawa. They also performed at 2 "Lawson Music ING" festivals on August 26 in Osaka and on October 10 in Tokyo.

Buck-Tick embarked to London on September 1 to record another album at Master Rock Studio. Whilst recording, the band roomed in two flats. Hisashi forgot to bring a demo tape and had to rewrite one song. That song was the acoustic "Silent Night" and Hisashi says the version he wrote in London is much better than the original. Recording began on September 2, rhythm parts laid down on September 3-5 and 8-9, guitar tracks were dubbed on September 10-15 and 17-19, synthesizer recorded on September 16, percussion recorded on September 20, and finally the vocals were recorded on September 13-15, 17-20, and 22. The album was mixed from September 23-October 1. While they were in London, they even played a gig at the Greyhound on September 21, with Fabulous Me opening up. The band left London on October 2 and returned to Japan the next day. Atsushi enjoyed abroad so much that halfway into it he didn't want to leave. (Incidentally, Boøwy, one of the most popular bands in Japan at this time, had played in London 3 years earlier. Please note also that Boøwy broke up this year and it is said that many of their fans then went on to support Buck-Tick.) 2 years after playing the Greyhound, it closed its doors and has been changed over the years. (It is currently in 2013 a food serving pool hall with karaoke.) Years later, Master Rock Studio has also closed.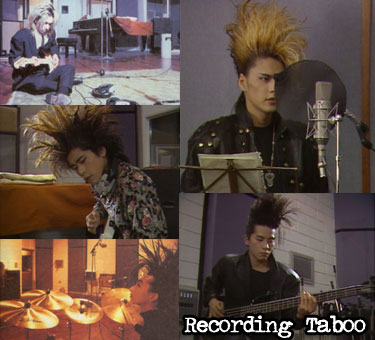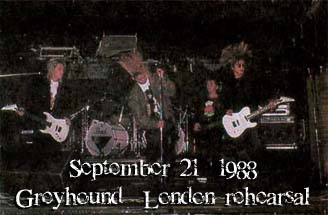 On October 10, Buck-Tick appeared at the Ginza Ongaku-sai [music festival] and received an award for best newcomer.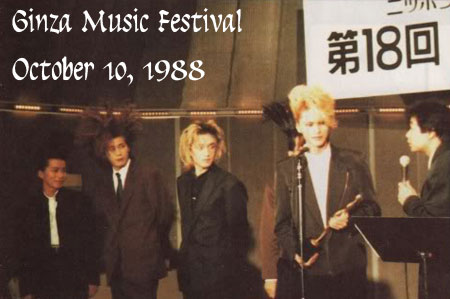 Buck-Tick just recorded their third album, but they have not yet toured for their second, so it was tour time again! The "Seventh Heaven Tour" began on October 11 with a show for fanclub members at Todashi's Bunka Kaikan. The members were burnt out on touring and some days before the show they did not feel like playing. Toll said they were in a slump. On Ocober 30, Buck-Tick performed for the first time at the Nippon Budoukan (also spelled as Budokan) in Tokyo for a guest apperance at "Band Explosion '88." The Budokan is famous to non-Japanese as many big Western acts perform there. For example, other non-Japanese performers at Budokan in 1988 were Bryan Adams, George Michael, Pink Floyd, Tina Turner, Kiss, Toto, Stevie Wonder, Bananarama, Aerosmith, Boz Scaggs, Yngwie Malmsteen, Foreigner, A-ha, Whitney Houston, INXS, David Lee Roth, Bryan Ferry, Eric Clapton, and Cheap Trick.
As if the band weren't already exhausted, throughout the tour they made several radio, tv, and magazine appearances. Days off were rare and far between. For example, on December 11, they made an appearance on the radio program "Kettei! Zen Nihon Kayou Senbatsu" and were booked to meet with folks from the magazine "Oricon Weekly". (Not sure if they did a full interview and photoshoot that day.) The next day they met with more magazine staff, the next day made another radio appearance, played a concert on the next day, more magazine stuff on the next day, etc. The band truly had a full schedule.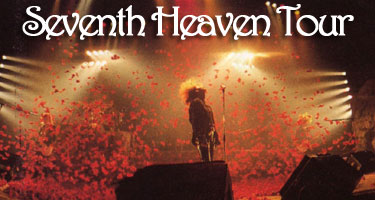 On November 4, Buck-Tick made their first appearance on the popular music show "Music Station". They performed "Just One More Kiss". Hisashi's guitar is noticeably giving him trouble in the beginning as the sound is not coming out. That was part of the Buck-Tick tv curse. In their first appearances, someone's instrument was bound to not work and so they began to hate tv. The first time was U-ta's bass not making a sound, then Hide's guitar, and finally Hisashi's guitar. The next day on November 5, the band appeared on "All Night Fuji". They appeared on "School's Out" on November 19.
On November 10, Buck-Tick played a show in Hiroshima and their performance of "Just One More Kiss" was broadcast live on the television show "The Best 10". It was a weekly show with performances by the artists of the top 10 songs of the week, just like "Music Station". (I actually remember watching it as I used to watch this show regularly but I was still a couple months shy from being a fan so I did not record it at the time.) The hosts asked such intelligent questions as how long does it take the members to put up their hair and how many bottles of hairspray does it require. After the band's performance, the male host of the show announced they would be going into commercial break wearing a huge wig mimicking Buck-Tick and said in Japanese, "I am boxing promoter Don King. Oh, you don't know who that is." (Probably referring to the viewers of the show being young kids into pop stars, too young to know who Don King is.)
On November 28, Buck-Tick recorded an appearance for the tv show "Just Pop Up" but I am not sure when it aired. Around this time, Buck-Tick performed "Just One More Kiss" for the tv show NHK Xmas Sepcial.

New Year's is a very special time in Japan. There are many television programs reserved for that time of year. The big Japanese music awards show is called Nihon Record Taisho. Buck-Tick appeared for their first and probably only time on Record Taisho on December 31. Buck-Tick were amongs the groups that received the Best New Artist award with the song "Just One More Kiss" and thus they performed it but they did not win anything else. (The grand prize winner of the show was a boy band if that gives you any indication of how awards shows go in Japan. But to be fair, that's how it goes in other countries too and the boy band that won were unprecedently huge, the most popular ever at that time in Japan.) After appearing on the Record Taisho awards show, they also appeared on TVK's "Pati Pati Tomato" for an all night live special broadcast from Shinjuku Koma Gekijo. (Japanese culture note: the other big new year's musical show is "Kouhaku", where men and women battle each other in performances, hoping to win votes. It's pretty much mandatory that every Japanese citizen watch this and judging by the type of performers on the show, Buck-Tick will never appear on Kouhaku.)

[this page was last updated on 2017.05.25 @ 15:07:12 CDT]