1987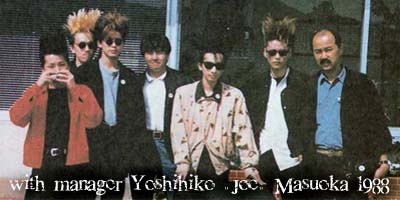 On January 12, Buck-Tick did a show at Shibuya's La Mama. It was then that they met their future manager Yoshihiko "Joe" Masuoka. Joe had been a friend of Sawaki of Taiyo Records for 10 years. (In the picture above from 1988, Joe is on the far right. Also in the photo is the staff member with the longest history, Shigeo Azami, who has held various roles but went on to become Toll's drum tech. B-T has hair up. Azami has hair down. Joe has no hair.)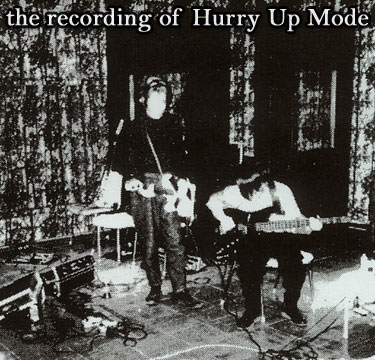 During January 21-February 4, Buck-Tick recorded their Indie debut album at the same Yamaha studio they had recorded their demo at, Yamaha Hiyoshi Center Studio. It was a grueling session as in so few days they spent about 100 hours in the studio. Toll remembers that it was a three to four hour drive to the studio. The members all stayed at Atsushi's and often got only three to four hours sleep each night. They recorded about three songs a day. U-ta had been attending administration/management school for 2 years but had missed about 2 months in that time and didn't think he would graduate, especially once they started recording the album so he just focused on the band and never graduated.

For the cover of the album, they took pictures at Sawaki's house on February 15. At that time a full color jacket for an indie band was pretty rare and the band was told the cover could be two colors. They decided if it was going to be two it would have to be a black and white. The album was titled Hurry Up Mode and was released on April 1. The album was almost named "Koroshi No Shirabe" and so they left that on the artwork, almost like a subtitle. (They did release an album with that name years later in 1992.) The album was released on CD and vinyl, making it the first Indies album in Japan ever to be released on CD. The CD contained two extra tracks: "Vacuum Dream" and "No-No-Boy". Since this album was released on an independent label, there were only a few copies of the CD pressed and it is a much saught after item for collectors.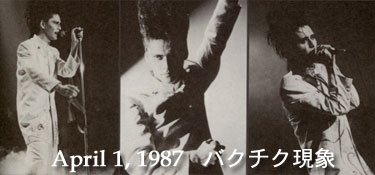 To kick off the album's release, on April 1 they played a show called "Buck-Tick Genshou" (Buck-Tick Phenomenon) at Tokyo Toyoshima Koukaido. It was Sawaki's idea to promote the show with 3000 stickers that simply said "Buck-Tick Genshou April 1 Toyoshima Kohkaido" in white on black. These stickers were placed all over the streets of Shibuya and Harajuku. It's possible that the idea for the title of the concert came out of Hisashi's love for the band YMO. He is a big fan of their album BGM (1981) which featured a song called "Rap Genshou".
On May 13, the band embarked on the "Hurry Up Mode Tour" for 10 dates. It began in Maebashi, the capital city of their prefecture, and ended in Yokohama. During the tour, they played two shows in a row in Osaka, but at different venues. This was the first time that they played 2 nights in the same city during a tour. To be fair, it was their first real tour afterall. Doing all these shows paid off. Major label producers became interested in signing the band. They were now struck with the ability to move on but were panicking because they did not know how to deal with it. They asked Sawaki what sort of things to look for in a record contract. He advised them not to let the company have control over their looks, not to deviate from their established look, that session musicians should not record in the studio for their albums, and that they should have control in the production process, because without all five members it is not Buck-Tick.
As the buzz spread from their live shows, a producer named Junichi Tanaka from Victor/Invitation records became interested in the band. They held a meeting and decided they would sign with Victor. Their contract stipulated the following key points:
never change the image of the band
never change any of the 5 members
never use studio musicians
let the band self produce its output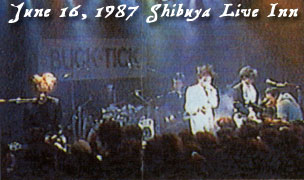 A record label signing celebratory show was held on June 16 at Shibuya's Live Inn entitled "Buck-Tick Genshou II". There were 600 in attendence. At the show they announced their signing to a major label. This show was videotaped and some footage was released by Victor on September 21 as Buck-Tick Live at the Live Inn.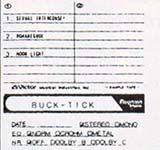 Before recording the actual album, Victor asked Buck-Tick to first record a demo tape. Thus, on July 18, Buck-Tick recorded a three song demo that contained "Sexual Intercourse!" (later known as "Sexual XXXXX!"), "Romanesque", and "Moon Light". Only one song from that demo, "Sexual Intercourse!", actually made it onto the album which they would later record and release. ("Romanesque" saw the light of day in 1988 when Buck-Tick released a mini-album, or as they say abroad, an E.P.. "Moon Light" would not come out of the closet until the entire Hurry Up Mode album was remastered and re-released by Victor in 1990.)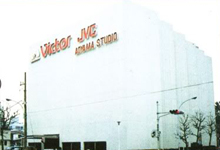 During July 26-August 18, Buck-Tick were in the studio to record their major label debut album. It was recorded at Avaco Creative Studio, Star Ship Studio, and Victor Aoyama Studio, which they would work at many more times in the future. The album was released on November 21 and entitled Sexual XXXXX!. The album did not have any singles released from it.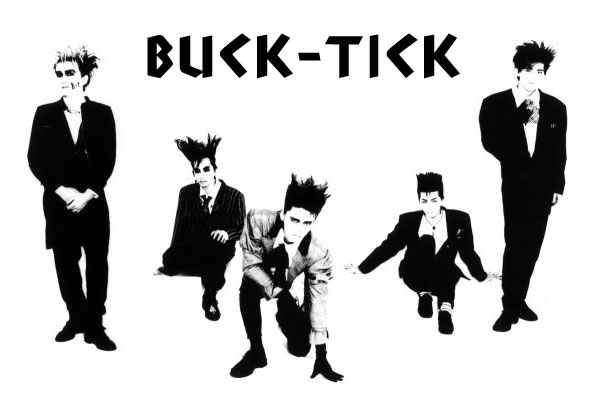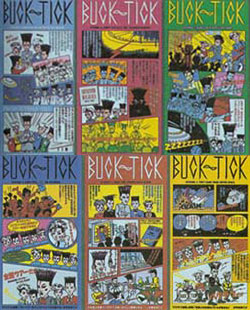 Victor worked hard at promoting the band and one way they did this was by creating a series of postcards to mail to the fans to inform them of Buck-Tick gigs. They are odd in their style of advertising. They feature a cartoon strip featuring Buck-Tick as a band from outer space who come to Japan and take over the music scene. There are 6 in all (pictured in reverse order). The first one is entitled, "Episode 1: They came from outer space". The ones that followed are, "Episode 2: Buck-Tick strikes back again", "Episode 3: Buck-Tick on the road", "Episode 4: Buck-Tick starts live tour", "Episode 5: Buck-Tick gets the "Seventh Heaven", and "Episode 6: Buck-Tick on the top of the world".
Victor also kept Buck-Tick busy with a lot of gigs and "meet the fans" type of press conferences. The group also made some television and radio appearances. The group's schedule was so busy, that they were concerned that their rehearsal time was being eaten away at. For example, as the video Picture Product reports, at one rehearsal they had to sign autographs for 5000 fans. (That incident may have been in 1988 but you get the idea of how busy they were and how popular they were becoming.)

In September, Shaking Hands became the name of their management office. It must have been around this time that a new fan club was established, now that they were on a major label and changed management. The name of the fan club was "Buck-Tick Club". The first newsletter was not published until November 21 and it would continue this way for almost a decade. The first few issues were a bit amateur, with a handwritten, photocopied look about it. Later on they moved on to proper typsets and color issues. When the fan club was dissolved, the members expressed their dislike of the fan club name and that they did not pick the name. Incidentally, at that point in the future, Buck-Tick changed not only their fan club but their management company as well.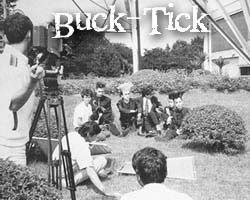 Video footage was shot on September 11 for promotional music videos. It was originally scheduled four days earlier but Atsushi was quite ill. Even on the day of shooting he was still sick and doesn't appear so healthy on film. Out of these sessions came music videos for the songs "Sexual XXXXX!", "Dream Or Truth", "Hyper Love", "Empty Girl", and "Illusion". This would later be available to purchase as a home video release. (Atsushi's sickness is most prominently viewable in the music video for "Sexual XXXXX!" as he is quite sweaty with fever.)
On September 20, they began their "Buck-Tick Genshou" tour in Takasaki for 19 dates. The tour ended in Maebashi. This remains their only tour that they began in Gunma and ended in Gunma. During this tour, they played a good chunk of the center of Japan. They didn't play the very ends of north and south but they played all the major areas in the middle.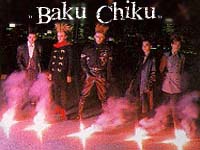 As the band grew, they began to do more and more interviews and the commonly asked questions were:
1. Why do you put your hair up?
2. How do you put your hair up?
3. What is the difference between the majors and Indies?
Hide would often answer they started dying their hair, putting it up, and wearing make-up because they liked it and thought it was cool. They weren't doing it to try to get attention or sell records. They weren't even musicians to sell, they were musicians because that is what they wanted to do.
On November 2, the band appeared on the NHK show "Audition". On November 27, the book Buck-Tick was released. It is comprised mostly of photos. The following day, the band appeared on Chiba TV. In December, Buck-Tick were on the cover of "Fool's Mate" magazine and I believe this was their first magazine cover.
On December 2, they appeared on the TBS show "Live Town". On December 5, they appeared on the Nagoya Chuukyou TV show "5ji Sat Magazine". (5 o'clock Sat Magazine) On December 11, they held a show called "Buck-Tick Genshou III" at Tokyo's Nihon Seinenkan. Part of the concert was broadcast on the tv show "Live Tomato". The band shot more video footage on the 15th and 16th. On the 28th they appeared on the Iwate TV show "Television".

On December 19, they began a brief "Buck-Tick Genshou" tour which lasted for 6 dates, beginning in Sapporo and ending in Aomori. They also played a big event on December 31 called Rock 'N Roll Band Stand to an audience of 5000. The members think that the other bands that played were Hound Dog, Seikima II, and Bakufu Slump (big names in the Japanese rock scene at the time). Since it was a New Year's Eve show, you can hear Hisashi slip in a few notes of "Mou Ikutsu Neru To Oshogatsu" during "Empty Girl". (A children's song about how many more nights to sleep until New Year's.)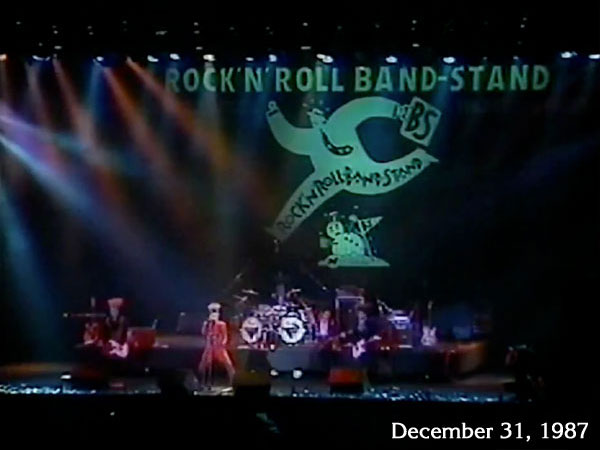 I'm not sure exactly when it occurred, perhaps towards the end of 1987 or the beginning of 1988, but there were a series of "Buck-Tick Special" video concerts AKA "Captagon Vol. 23" and "Captagon Vol. 25". The Captagon company, run by Buck-Tick's record label Victor, held these video concerts for various bands and Buck-Tick was the main band for this edition. In Vol. 23, footage from Buck-Tick performing at Nippon Seinenkan on December 11 was shown. I'm not sure what was featured though in Vol. 25.
It should be noted that in 1986 and 1987, Buck-Tick would play a song at concerts called "Boy's Error", but this song has never been released in any format. It may exist on live bootlegs, but the quality of any such recordings would likely be poor. I am not sure if this song was from the Hinan Go-Go days as I have only seen it listed at concerts beginning in 1986 and Hinan Go-Go played live only in 1984. This remains the only unreleased Buck-Tick song that has been played live. Other unreleased Buck-Tick songs may include demos and studio outtakes that never made it to an album. None of those have been played live.
[this page was last updated on 2018.02.14 @ 03:09:29 CST]