1985
Hide and U-ta finally graduated high school in the spring. Each convinced their parents to move to Tokyo to attend school. Atsushi stayed behind and would travel to Tokyo for shows. All of the band lived in the same area except for U-ta. They would often hang out together to rehearse, listen to music, and just grow as friends. They rehearsed once per week. In August, Atsushi finally moved to Tokyo. (It's only after moving to Tokyo that his famous love of cats developed as a roommate had a pet cat.)
Buck-Tick's live debut (by themselves without any contest or festival help) was on August 4 in Tokyo at Shinjuku Jam. The band was poor as many bands who start out don't have much money. The tickets for the show were handmade. Buck-Tick played at "Beat For Beat For Beat Vol. 1" at Shinjuku Jam as well on November 8. It was Araki's last show with Buck-Tick because a little later after that, Hisashi decided that Araki didn't fit with the image he had of Buck-Tick because he couldn't sing the songs. It was very hard for Hisashi to tell this to Araki because they had been friends since grade school, moved to Tokyo together, and were even sharing a room because that's all they could afford to do for living quarters. The members were drinking at a bar when Atsushi brought up the topic. To the band's surprise, Araki said he had felt the same way but as all of this was going on, everyone was very emotional and crying. Now with Araki out of the picture, the band did not know what to do for a new vocalist.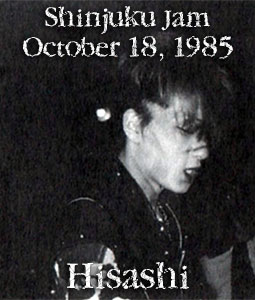 [The book Love Me has this photo of Hisashi (right) and notes that it was taken on October 18 at Shinjuku Jam. However, it is never noted in the book that Buck-Tick played a gig that day. The date could be wrong, it could have been a day that they forgot to list in their live history, or it could simply be the date of the photo and no gig was played that day. However, the book does comment that Hisashi began to decorate his face around this time and in the photo, one can see that Hisashi painted across his nose and shaved a bit of his head.]
Atsushi had decided that he would rather sing than play the drums. He didn't think he played the drums well at all. He consulted U-ta's older brother Toll since he was a drummer and had been nice enough to let Atsushi practice at his house. Also, Toll's band S.P had just lost their vocalist so Atsushi thought he might be able to join them. Toll told Atsushi that he shouldn't become the vocalist because he is Buck-Tick's drummer and should stay the drummer. He also wouldn't allow Atsushi to join S.P. Furthermore, Toll told Atsushi that S.P had broken up.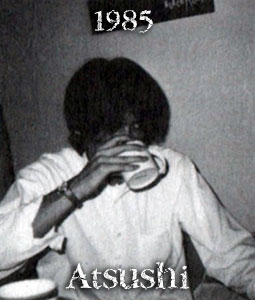 Speaking to Toll had bothered Atsushi a lot since he was determined to sing. It is said that Atsushi told his dilemma to a member of the famous Japanese band Boøwy. This member told him that he should be a vocalist if that is what he wants to do. This convinced Atsushi. Another story goes that when Boøwy was back home in Gunma, they threw a party and Atsushi was there. The singer told him he has a good face so he should be a singer. Atsushi has later denied that this story is true. The point is, Atsushi decided he would rather sing than play drums and told his plans to U-ta. U-ta then called Hisashi in Tokyo. Hisashi didn't like this idea because Atsushi had been the drummer and he didn't know what his voice sounded like. Also, Hisashi had already begun auditions with a tall man he thought fit Buck-Tick's image. Hisashi decided the band should hold a meeting.
At the meeting Atsushi made his desire to sing quite clear. He said that no one wanted to sing more than he. The band thought if Atsushi were to sing, who would play the drums? U-ta suggested his brother Toll since he was no longer in a band as S.P had broken up in October. The rest of the members knew of Toll's drumming power and thought that there could be no other drummer for Buck-Tick. It was now U-ta's job to convince Toll to join them.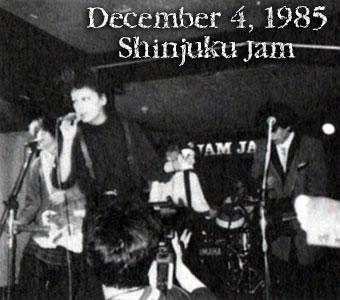 Toll told U-ta that he had given up on music and would not join the band. He had been playing in bands for awhile and said that if he couldn't make it there was no way U-ta and his friends could. U-ta eventually convinced Toll that becoming the drummer of Buck-Tick was the only thing he could do. Toll agreed to join them in November and moved in with U-ta. Rehearsals were begun immediately. This line-up's live debut was on December 4th at Shinjuku Jam. The set was about 30-40 minutes long and they still have yet to change their line up. They played another show on the 9th in Maebashi back in Gunma at a place called Garcia.
Toll's history: he began to learn the drums because he and U-ta's older brother had played the drums. Toll is 5 years older than U-ta and their older brother was five years older than Toll. Unfortunately the older brother got into a motorcycle accident and never completely recovered. He died within a year in May 1977. Toll was interested in music and practiced on a cheap SG type of guitar. But memorizing chords was boring for Toll, so he decided he would continue his brother's drumming. It's a sad story, but if this had never happened, there probably would have never been a Buck-Tick like there is today. (This older brother tragedy is so significant to Toll's life that his 2004 solo project Yagami Toll & the Blue Sky is heavily about it and the album is even called 1977/Blue Sky. The live shows are heavy with covers, including Carol songs.)
Toll's first band was in 1977 and it was called called Shout. They were a copy of the Japanese band Carol. Toll was in a band years later called Spots and the name changed to S.P once they started writing original songs. At the time he wore his hair in a mohawk. They played many local amateur festivals such as Popcon and East West. In fact, S.P is on the double live record East West '85 along with an amateur Lä-Ppisch, who also later became a famous band in the late 80s. Lä-Ppisch would go on to sign to the same major label as Buck-Tick did, (Victor Entertainment, Inc.), and toured together once. I remember both bands also endorsed JVC stereos. In fact, on this flyer from 1985, one can see that S.P and Lä-Ppisch both played on August 24, 1985 for Yamaha's East West contest.
I'm not sure exactly when each person started to help the band, but it should be noted here that in the early days, Buck-Tick used their friends as staff members. A former classmate of Hide and U-ta named Hitoshi Ojima has been a roadie, road manager, and other sort of manager for the band for several years. (Ojima was last credited in 1994 in a Buck-Tick release but he has been thanked in Hisashi's side project Lucy.) The same basic backstory is true for Shigeo Azami, although he continues to work with the band as Toll's drum tuner. He wasn't friends with Buck-Tick members in high school, though they did go to school together. They became friends after he attended a concert in the early days and recognized his former peers. Buck-Tick didn't have a manager back then but U-ta was very friendly and knew a lot of people so he basically acted like their manager. Photos of Ojima show up sometimes in early fan club issues, magazine appearances, even in Buck-Tick books. Azami's photo and interview is in the Guitar Archives book but but he also appears in some in early resources such as fan club newsletters. Buck-Tick's manager in the late 80s also makes an appearance in the Hyper book but I'm not sure if managers since then have been photographed. Their current manager (since 2000) is active on social media to promote the band. Before the band had a proper stylist, Atsushi's friends would help make his stage costumes. As for other roles, many people that the band currently work with began working with the band since around the early 1990s.
[this page was last updated on 2018.02.04 @ 02:39:36 CST]