1984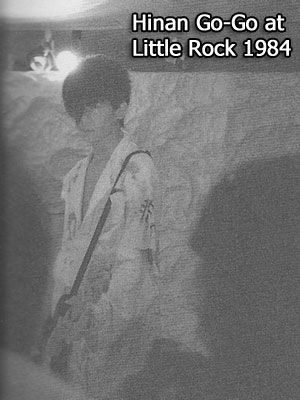 In the spring Hisashi had decided on a name for their new band: Hinan Go-Go. (Hinan in kanji as Hisashi had wanted Japanese to be in the name, which means "criticism" or "condemnation", see below). About four months after acquiring their instruments, they played an annual amateur festival in their area called Little Rock. There were many Mods and Boøwy (two popular bands at the time) imitators among the other bands. There were about only 30 in attendance. Hinan Go-Go wore suits and sang three covers of the Japanese punk band Stalin, ("Romanticist", "Stop Jap", and "365"), so the members felt they stood out from among the other bands. Hisashi thought the others were boring and Hinan Go-Go was cool. Since they had barely learnt how to play, their performance could not have been very good and Hisashi has laughed in interviews how they messed up during the first song and had to stop.

The band decided that they would wait to play together as a band seriously (which meant moving to Tokyo) until after all of them had graduated. At this point Hisashi and Atsushi were in their last year of high school while U-ta and Hide still had one more year to go. (In Japan this means that Hisashi and Atsushi would graduate in the spring; U-ta and Hide in the spring of 1985.) But, Hisashi and Araki did move to Tokyo after they graduated without the other three. Hisashi enrolled in a design school in Tokyo and lived with Araki. Atsushi began working at a local auto parts company in Gunma. For the first year after graduating, Atsushi claims that he drank every day and fought with his parents because they wouldn't let him move to Tokyo like he desired. Hisashi spent his time focused on music, holed up in his room listening to songs, practicing guitar, and writing songs. He and Araki would return to Gunma on the weekends to play with the band. He dropped out of the design school after 3 months and his parents asked him to return home to Gunma.
In the meantime, all of the members started to seriously practice their instruments and Hide thought that if they were going to be serious then they should be playing their own songs. He wrote their first original song called "Soldier" but later renamed "Freaks". Later they apparently sold it to another band for 500 yen(?!) but not before playing it live. (available on bootlegs). Shortly after that, Hisashi wrote "Plastic Syndrome". This song is now known as "Plastic Syndrome Type I" because subsequent songs have been written under the same title. [It should be noted that when I listen to bootlegs, it appears that "Soldier" and "Freaks" are two completely different songs played at the same show but I could be wrong as to the titles of the songs in the bootleg shows of Hinan Go-Go. Suffice it to say, there is at least one song from this period whose title is unknown and was played live more than once.]
Three months later during the summer, Hisashi decided that since they were becoming more serious, their name should have an impact so he wanted to change the name of the group to "bakuchiku" but spelled it Buck-Tick, meaning firecracker in Japanese. (Bootlegs reveal that they also played a show in the summer where they announced their name change but their official books do not note this show.) Hisashi was very much into punk, as evidenced by the band's first show comprising of all Stalin covers, but perhaps it was around this time that he began to get into British new wave bands. Hide had already been listening to Bauhaus and The Cure but he met a girl who knew many British groups and would make tapes for him. Hide shared these tapes with Hisashi. Atsushi was also a Bauhaus fan. He started as a Bowie fan and it intrigued him that Bauhaus covered Bowie.
I am not sure exactly how many shows Hinan Go-Go played but bootlegs I have collected suggest they perhaps played another show whose date is unknown at this time, possibly in the summer before they changed their name to Buck-Tick. As far as their song catalogue is concerned, it has only been mentioned that songs they played during this time that never were released were "Freaks" and "Plastic Syndrome". Not credited in their official books but another song they played at this time was "Monokuro No Star". There could be more songs if only one traded enough rare bootlegs of live shows and rehearsals. I can only guess as to which song on these bootlegs is "Plastic Syndrome" as I have never heard Araki specifically say "this song is Plastic Syndrome". However, one can guess the title by listening carefully to what Araki sings (chorus of one song sounds like "plastic").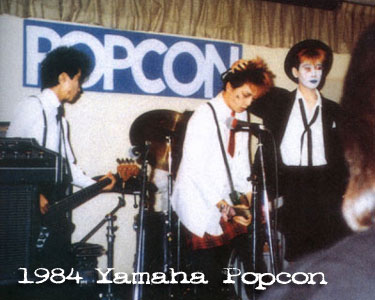 The band played as Buck-Tick for the first time in late 1984 at a contest called Popcon (which is short for Popular Song Contest) sponsored by Yamaha. Again they wore suits but this time they played original songs. Also of note, Atsushi's father passed away in October. Since Toll was also in a band called SP, they would sometimes play shows together and all the bands who played that night would party afterwards (see below). I am not sure though which shows they may have played together.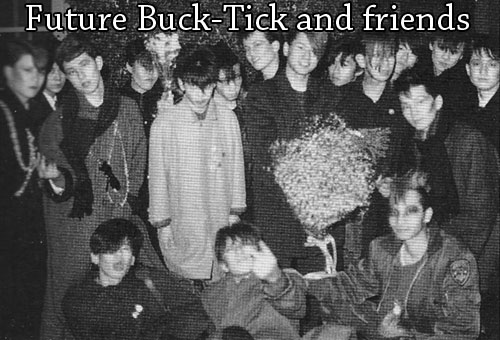 [this page was last updated on 2017.09.17 @ 01:36:57 CDT]