Releases: Books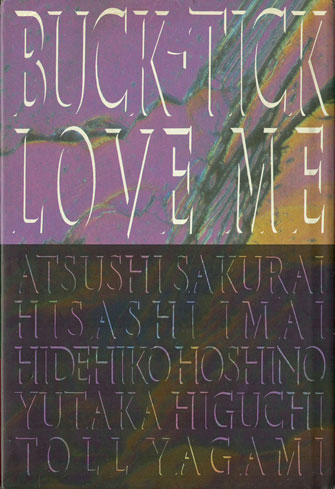 Love Me
release date: March 14, 1989
company: Shinko Music Pub. Co., Ltd. (ISBN 4-401-61275-2)
author: Yasue Matsuura, Takao Nakagawa
size: A5
pages: 176
initial price: ¥1339
goodies: ?
Contents
band history
photos
band history chronological timeline
select setlists
Credits
cover photo: Yukio Sono (obi over dust jacket)
illustration: Hisashi Imai (dust jacket)
photographs: Masaaki Toyoura
stylist: Sayuri Watanabe
hair and make: Takayuki Tanizaki
title typsetting: Takayuki Kamesaki
art direction & design: Seiichi Suzuki Design Office
editor: Mieko Mitsuki (Shinko Music)
special thanks to: Shaking Hands Inc. (Osamu Takagi, Yoshihiko Masuoka, Hitoshi Ojima, Shigeo Asami, and all staff), Victor Musical Industries Inc. (Junichi Tanaka, Naoki Toyoshima, Yuuko Sakurai, Tomoko Fujikane, and all "Buck-Tick" staff), Disk-Garage Co. Ltd., Kazuhiko Takano, Buck-Tick "Seventh Heaven Tour" Staff (Yoshiharu Sasaki, Keizoh Kotaki, Tomoaki Umehara, Hiroshi Inoue, Masaichi Sumiya, Yoshiharu Horii, Emi Ohnui, Takeshi Nagaoka, Hiroshi Mochizuki, and all staff), Taiyo-Record (Kazuo Sawaki), B-Pass (Backstage Pass), and Buck-Tick (Atsushi Sakurai, Hisashi Imai, Hidehiko Hoshino, Yutaka Higuchi, Toll Yagami), Thanks with Love...
[this page was last updated on 2016.10.11 @ 00:24:08 CDT]