Toll Yagami
Much of the information here came from books (Hyper, Love Me, Hyp #3) and magazine articles. Naturally data from 20 years ago will not be up to date, such as their eyesight or favorite things.
Skip ahead to favorite/influential albums or equipment overview.
Profile
real name: first name unknown, last name Higuchi; Toll (Tooru) was his older brother's name (the original drummer in the family) and he thought Yagami was cool; first name rumored among some fans to be Takashi but with different kanji than the "tooru" kanji that Toll uses, which coincidentally can also be read as Takashi (Toll said that he would not reveal his real name because he is selling music, not himself)
nickname: Anii (it means older brother in Japanese; the other members call him this as do some fans and even other musicians)
instrument: drums; percussion (rarely)
first band: Shout (in 1977)
other bands: Spots (later known as S.P) (1984-1985)
date of birth: August 19, 1962 (Showa era, year 37)
hometown: Takasaki, Gunma prefecture
siblings: deceased older brother; older sister who is married with children; younger brother (bassist Yutaka Higuchi)
marital status: never married (there are strong rumors but Toll once said that if he ever got married, he would shout out the news to the world and there have been no official announcements like there were for the other members)
education: quit high school after three months, never graduated (high school is not required in Japan; Toll completed the required basic education); this would have been in 1978 (as a marker, this is equivalent to quitting during 10th grade in the USA)
first record bought: "Let It Be" by The Beatles
favorite...
artist: The Beatles, Kiss, Led Zeppelin (other major influences include the Sex Pistols, Carole King, The Clash, Deep Purple, Boz Scaggs, Leon Russell, Mari Kaneko, Creedance Clearwater Revival, Carol, Boøwy, GFR, Anarchy, Cools, The Cherryboys, etc.)
cigarette: Lark One Pacific Green 100's (previously it has been Salem Pianissimo, Frontier Lights Long, and Mild Seven Light)
color: green, red, white, black
drink: Japanese sake, red wine, sports drinks, lemon tea, water (when performing live)
drummer: Don Brewer (Grand Funk Railroad), Keith Moon (The Who), etc.
food: crab, raw oysters (previously pudding)
movie: Back to the Future, The Final Countdown
season: fall
sport: to watch, boxing; he also likes ping-pong / table tennis (in 9th grade he played baseball and as for baseball, his favorite team is the Yomiuri Giants from Tokyo, the rival team of his brother U-ta's favorite team)
time of day: early evening
favorite / influential albums:
(this information was compiled from various books and interviews)

Led Zeppelin by Led Zeppelin
of all their albums, this one impacted Toll the most. When asked who is the one artist that changed your life, Toll declared it was John Bonham.

Who's Next by the Who
Toll jokes that he's a twin bass drummer who doesn't use two basses so he likes Keith Moon because they are alike; he likes the cover art of this album as well

Let It Be by The Beatles
Toll's older brother owned this album and he recalls that they would study in the same room so he The Beatles has been in his heart since he was just a kid. Let it Be was the first single Toll bought when he was in elementary school; he likes the later period of The Beatles.

Funky Monkey Baby by Carol
Carol was the first rock music that Toll thought was good. Toll's first band was in 9th grade and they copied Carol songs. When asked what was the one album that changed your life, Toll declared it was this one.

1984 by Van Halen
this is the first Van Halen album Toll bought and he likes the drums on it

No Secrets by Carly Simon
this is one Toll's older brother owned; Toll likes the melodies and arrangments
Live in Japan by Deep Purple
Toll thinks that the quality of the sound on this album is so good that it's hard to believe it's live. He also prefers the sound of the drummer live than in the studio.
Big Deal by Cools Rockabilly Club

Cactus by Cactus
Toll has liked Cactus for a long time, if he had to chose this would be his favorite album

Urban Renewal by Tower of Power

Rich versus Roach--A Battle of Bands and Drums by Buddy Rich and Max Roach
Toll listened to this a lot in 1991
Abraxas by Carlos Santana
Toll listened to this in elementary school, 2nd or 3rd grade, as his older brother drove the car, at first he didn't like it; this is probably Toll's first taste of foreign music

Middle Man by Boz Scaggs

Iijanaika by The Mops
at the time The Mops made an impact on Toll and he likes the cover art too

Cosmo's Factory by Creedence Clearwater Revival
Toll likes anything by CCR; one of the songs he especially likes is "Who'll Stop the Rain"

Misslim by Yumi Arai
Toll likes Yuming's beginning, when she was 19 or 20; he also likes the cover image

The Edgar Winter Collection by Edgar Winter
Toll owns another album on vinyl, but since it's not available on CD, he bought this one on CD but he thinks the songs are really good

Live Album by Grand Funk Railroad
Toll has been watching bands play live on tv since he was in elementary school and that is when he became a fan of Grand Funk Railroad.

Who the Rockers by the Rockers
Toll studied the fast drums on this album when he was 19 and he thought it was very cool

Flapper by Minako Yoshida
Toll used to listen to a lot of female vocalists such as this singer
Boston by Boston
Toll likes to listen to mellow songs so that aspect of this album is good;he also likes the choruses

Pinups by Pinups
Toll has been listening to this since around 1981, when it was released, after Carol

Never Mind the Bollocks--Here's the Sex Pistols by the Sex Pistols
Toll listened to this one when it first came out and really enjoyed the riffs; he was in 9th grade. This is the punk band for him, there is no other greater punk band.
Alive From Planet Earth by Lenny Kravitz (video)
Equipment Overview
[This is outdated and needs to be updated]
Skip ahead to drums used in the 1990s, 2000s.
Toll used to play Pearl drums with Sabian cymbals, but since Darker Than Darkness he prefers Ludwig drums with Paiste cymbols. He based this new setup on Led Zeppelin and Deep Purple by using 2 bass drums, 2 tom-toms, 2 floors, etc. (As you can tell, his musical influences are quite different from the rest of the band. He prefers classic rock. His idol John Bonham was famous for his Ludwig/Paiste kit.) Since about Six/Nine though, Toll has been using only 1 bass drum. He later returned to using 2 bass drums but I need to look up since when exactly. (Possibly the 1 bass setup lasted for 2 albums.) Since around the late 1990s, Toll often has the album or tour logo on his bass drum heads. As Buck-Tick incorporates more electronics into their sound, Toll has to wear a click track for certain songs. For many years, Toll's drum setup has included an electric fan to help keep him cool while drumming live.
Toll owns many many many drum kits. He has so many sets in assorted colors that they are stored in a warehouse the size of an airplane hanger. I saw a photo of him in that warehouse in a magazine once and most of the drums visible were ones I've never seen him use in Buck-Tick up until that point. He may have used them later, I just don't know as I didn't buy the magazine.
Equipment: 1990s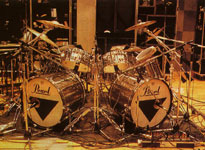 The drum set pictured to the right was the one used during the recording of Aku No Hana. At this point he had recently changed his bass drum pedals to a dual chain drive as he had issues with controlling the beaters with his previous pedals. Toll drew a diagram to illustrate the specifics (see below). When the band was touring for the album, logos had been added to the bass drums.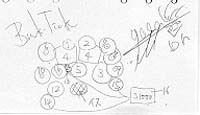 1 = 10" x 4" tom
2 = 12" x 4" tom
3 = 18" x 16" floor tom
4 = 22" x 16" bass drum (2)
5 = 14" x 3 1/2" picolo snare
6 = 16" medium crash
7 = 18" medium crash
8 = 18" chinese regular
9 = 21" heavy ride
10 = 22" china cymbal
11 = 14" flat hats
12 = 16 x 16 floor tom
13 = Boss synth pad
14 = Pearl synth pad
15 = Pearl synth pad
16 = Akai S1000
isu = chair (written in Japanese)
Back view of the drum kit. Also, here's another, larger, easier to understand drawing.
The synth pads are connected to the Akai S1000. Toll's sticks are made from hickory by Pearl, they are the Toll Yagami model, 14.5 x 415 mm, and were not available for purchase. He also used a Yamama DX100 sampler, pictured with the sample discs below.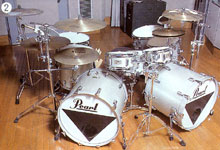 Toll's setup for the recording of Koroshi No Shirabe was a Pearl FX series with Sabian symbols. For the first time it also included a snare made by Sota (handmade in America), he changed his drum heads from Remo to Evans. The full kit consisted of 2 bass drums but for recording he used only one.
full kit details unknown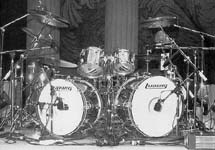 Toll's first Ludwig setup pictured to the right which was used during the tour for Darker Than Darkness consisted of:
Radic speed king pedal
Radic stainless steel shell set
24" x 14" & 26" x 14" bass drums
16" x 16" & 18" x 18" floor toms
13" x 12" & 10" x 7" double head toms
14" x 14" & 15" x 14" single head toms
15" giant beat high hats
12" the paiste cymbal
18" 2002
20" 2002
24" ride
20" istanbul
Back view of the drum kit.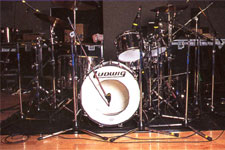 Toll's Six/Nine setup used all Paiste cymbols. This is the first time Toll's only used 1 bass drum in Buck-Tick. The specifics are (see drums diagram and rack diagram):
24" x 14" bass drum
10" x 5" & 12" x 8" toms
16" x 16" & 18" x 18" double head floor toms
14" x 5" single head floor tom
14" x 6 1/2" snare
8" splash
15" high hats
18" crash
20" crash
24" ride 2002
20" china
Back view of the drum kit.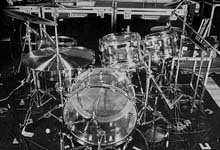 Toll's Cosmos setup used the Radic 1970s beaster light and long Regal sticks. The specifics are:
24" bass drum
12" & 13" toms
16" & 18" floor toms
14" x 6 1/2" snare
15" high hats
16" crash
18" crash
24" ride
22" china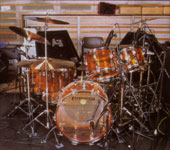 Toll's Sexy Stream Liner seems to be quite similar to the previous setup, only the bass drum is smaller. This setup comprised of Ludwig drums and Paiste cymbols. Drumsticks used at the time were Regal Toll Yagami original model. The specifics are (diagram included):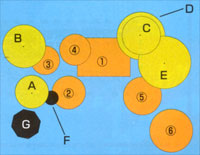 1 = 22" x 14" bass drum
2 = 14" x 6 1/2" snare
3 = 12" x 8" tom
4 = 13" x 9" tom
5 = 16" x 16" floor tom
6 = 18" x 16" floor tom
A = 15" high hats
B = 16" crash
C = 18" crash
D = 24" ride
E = 20" china
F = Roland synth pad
G = Simmons synth pad
Back view of the drum kit.
Toll's drum rack included a Akai ME35T (audio midi trigger) and Akai S1000 (midi audio digital sampler).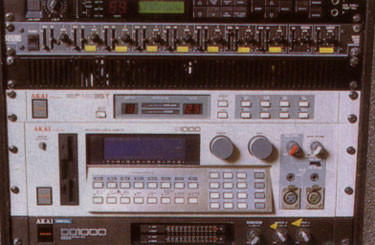 Equipment: 2000s
Pictures only for Toll's setup mid/late 2002-2003. (The custom bass drum heads are reminiscent of an earlier Pearl kit (see above for picture of Aku No Hana recording setup.)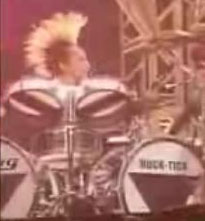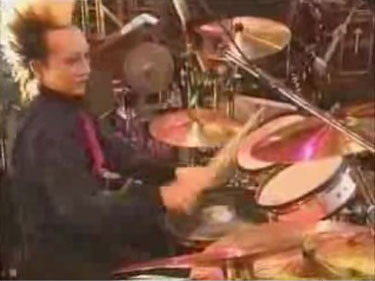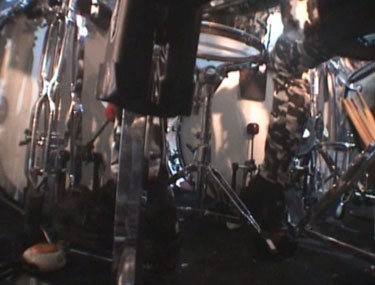 Pictures only for Toll's setup in 2004.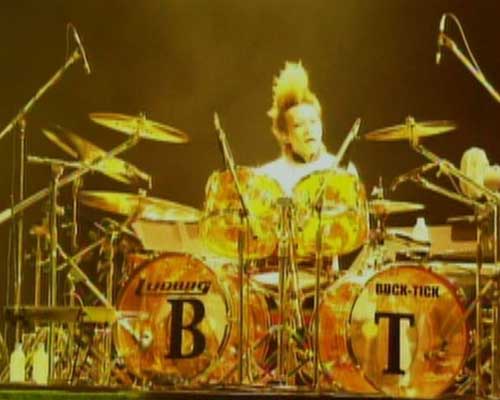 Pictures only for Toll's setup in 2007.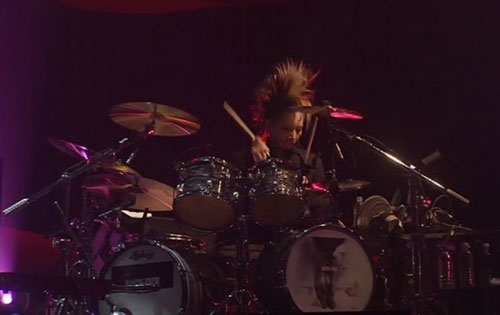 Simmons synth pad still in use
Toll's setup as visible during Razzle Dazzle tour: Gretsch drums, Paiste cymbals, Pearl hardware, Simmons synth pad still in use.
[this page was last updated on 2017.08.22 @ 00:38:06 CDT]